ESMexpress Module features Intel Core 2 Duo SP9300 processor.
Press Release Summary: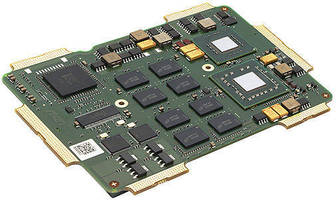 Equipped with Intel Core 2 Duo SP9300 with clock frequency of up to 2.26 GHz and graphics controller GS45, XM2 suits visualization applications. It has power consumption of 40 W, operates in temperature range of 0 to +60°C, and offers 4 x 1 or 1 x 4 PCI Express links, 2 Gigabit Ethernet, 8 USB ports, 3 SATA interfaces, and HD audio. Other features included are 4 Gb DDR3 DRAM memory, and Board Management Controller for monitoring board functions.
---
Original Press Release:

The High-End of the COM-Standard - ESMexpress Module with Intel® Core(TM) 2 Duo



o Intel Core 2 Duo SP9300 up to 2.26 GHz
o Up to 4 GB DDR3 SDRAM
o 1 x16 PCI Express® graphics link
o 4 x1 PCI Express® links
o Gb Ethernet, SATA, USB, SDVO, HD Audio
o 0°C to +60°C screened
o Conductive Cooling

Embedded World, Nuremberg, March 3, 2009 - MEN Mikro Elektronik presents a new ESMexpress module - the XM2 - with a performance range which has not been reached on Computer-On-Modules until now. Equipped with the new Intel Core 2 Duo SP9300 with a clock frequency of up to 2.26 GHz and the graphics controller GS45, the XM2 is especially well suited for visualization applications in the railway, avionics, medical engineering and industrial automation markets.

The High-End of the Computer-On-Module Standard
After the first presentation of the ESMexpress-Standard (ANSI-VITA 59, RSE Rugged System-On-Module Express) in May of last year, now follows the second Intel-based board of this product family.

Intel's latest Core 2 Duo processor SP9300, the clock frequency of 2.26 GHz and the power consumption of 40W make the XM2 one of the top Computer-On-Modules in terms of performance.

The new Core 2 Duo processor offers a multitude of I/O functions, which can be led from the XM2 to an application-specific carrier board. These functions include among others four x1 or one x4 PCI Express links, 2 Gigabit Ethernet, 8 USB ports, 3 SATA interfaces and HD audio. In addition, the GS45 graphics controller offers a x16 PCI Express graphics link or optionally up to two SDVO interfaces, a DisplayPort or two HDMI ports.

The XM2 is equipped with a state-of-the-art 4 GB DDR3 DRAM memory which - together with other memory components like USB Flash on the carrier board - offers nearly unlimited space for every imaginable application.

A Board Management Controller for monitoring all board functions complete the functionality of the XM2. For testing of the XM2 and for developing the application the XC1 universal carrier board in ATX format can be used. The XM2 can also be plugged onto COM Express carrier boards (basic form factor type 2) via the adapter board AE12.

Robust mechanics for extreme environments
The XM2 is specified for an operating temperature of 0°C to +60°C with conduction or convection cooling. Like all ESMexpress modules it is installed in a closed housing which also guarantees 100% EMC protection. To ensure shock and vibration resistance MIL- and railway-compliant connectors are used and all components are soldered. In addition the board is coated against humidity and dust.

About ESMexpress
ESMexpress modules are complete computers on a plug-on module. By configuring the I/O on an individual carrier board the functionality can be tailored to the application, thus saving costs and time-to-market. The ESMexpress standard has been developed for applications requiring highly robust electronics which ensure safe and reliable operation even in harsh environmental conditions. This applies in particular to the fields of railway and avionics, partially to industrial automation and medical engineering as well as mobile applications in general. ESMexpress is currently in the process of ANSI-VITA standardization. The official designation will be ANSI-VITA 59, RSE Rugged System-On-Module Express.

MEN Mikro Elektronik - Profile and Mission
Since its foundation in 1982 our company designs and manufactures failure-safe computer boards and systems for extreme environmental conditions in industrial and safety-critical embedded applications. Our mission is to provide innovative solutions while maximizing reliability and flexibility.

With 200 employees and subsidiaries in France and the USA we have an annual revenue of 28 million Euros with an export share of about 50%. Customized solutions make for more than half of our revenue. In addition the standard product range includes far more than 100 different computer boards with Intel Pentium and multi-core processors and PowerPC with the corresponding BIOS, BSP and driver software, manifold I/O boards and completely configured systems based on:
o ESMexpress and ESM Embedded System Modules
o 3U and 6U CompactPCI, CompactPCI Express and VMEbus
o PMC, XMC and M-Modules as system-independent mezzanine I/O standards

The consistent use of FPGA technology gives us high flexibility when configuring customized and standard products.

Our products are used worldwide as control, measuring, test or simulation computers in all kinds of embedded applications. These comprise extremely safety-critical markets such as railways, including buses and commercial vehicles, aerospace technology or the medical industry, but also mechanical engineering, shipbuilding, telecommunications and the automotive industry. Computer systems in such applications are in operation up to 24 hours every day and often need to be available for 10 years and longer. Ideally no failures must occur to avoid costly downtimes of machines or danger to human life.

We are certified to EN 9100:2003 (aerospace), ISO 9001:2000 (quality management) and ISO 14001:2005 (environmental management) in order to meet the severe quality requirements in critical applications and to offer our customers the highest quality in products and services while considering environmental protection and occupational safety on the basis of a recognized quality management system. We are also working on certification to IRIS (railway).

Our aim is to constantly improve and to provide the highest technology and innovation level. Our business ethics is determined by the principles of the United Nations' Global Compact Initiative (human rights, labour, environment and anti-corruption).

More from Materials