ESD Protection Devices provide capacitance of 0.25 pF.
Press Release Summary: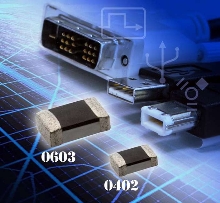 Utilizing thick film technology, Models PESD0402 and 0603 provide I/O port protection on USB 2.0, IEEE 1394, digital visual interface, and antenna switches. RoHS-compliant devices shunt ESD away from sensitive circuitry in HDTV equipment, printers, laptops, cellular phones, and other portable devices. They are compatible with standard surface-mount and reflow installation procedures and are available in tape and reel packaging.
---
Original Press Release:
Raychem Circuit Protection Introduces New Low-Capacitance ESD Protection Devices For High Data-Rate Applications

MENLO PARK, Calif. -May 9, 2005 - Raychem Circuit Protection, a business unit of Tyco Electronics, continues to expand its circuit protection portfolio with the introduction of its electrostatic discharge (ESD) protection devices. Designed for I/O port protection on USB 2.0, IEEE 1394, digital visual interface (DVI), and antenna switches, the PESD0402 and 0603 protection devices are available in the electronics industry's most popular form factors. The RoHS-compliant devices shunt ESD away from sensitive circuitry in HDTV equipment, printers, laptops, cellular phones, and other portable devices.

Raychem Circuit Protection maintains its position as the industry leader in circuit protection with ESD devices that utilize advanced thick film technology to provide exceptionally low capacitance (typically 0.25 pF) for ESD protection in high-speed data transmission applications. The devices perform better than other comparable components in transmission line pulse (TLP) testing, a typical ESD performance evaluation. They also offer lower trigger and clamping voltages than typical polymeric ESD devices, resulting in improved protection of sensitive electronic components. The ESD series also performs better in IEC61000-4-2 testing, especially after multiple hits (up to 1000).

"The new ESD protection devices provide low capacitance, low-voltage clamping levels, and high ESD tolerance - all critical performance parameters for high data-rate transmission applications," said Theresa Lagos, product marketing manager. "Additionally, the device's form factor meets the board-space and surface mount installation requirements of new portable electronics designs."

The ESD series devices are available in standard EIA sizes 0402 and 0603, with a quad-array in 1206 size coming soon. They are compatible with standard surface-mount and reflow installation procedures, and are available in tape and reel packaging for compatibility with high-volume manufacturing. For further information or technical assistance, call (800) 227-7040, or visit www.circuitprotection.com .

Price: $0.09 in quantities of 100k units/year

Availability: Samples available now

Delivery: 6-8 weeks ARO

About Tyco Electronics

Tyco Electronics, a business segment of Tyco International Ltd., is the world's largest passive electronic components manufacturer; a world leader in cutting-edge wireless, active fiber optic and complete power systems technologies; and a provider of premise wiring components and systems. Tyco Electronics provides advanced technology products from over forty well-known and respected brands, including Agastat, Alcoswitch, AMP, AMP NETCONNECT, Buchanan, CII, CoEv, Critchley, Elcon, Elo TouchSystems, M/A-COM, Madison Cable, OEG, Potter & Brumfield, Raychem, Schrack and Simel. For more information, visit www.tycoelectronics.com

Nick Rottler

Manager, Global Marketing Communications

Tyco Electronics Power Components

PH: 717-592-2316

PH: (800) 227-7040

nrottler@tycoelectronics.com
More from Fluid & Gas Flow Equipment