ESD Diode Arrays come in micro leadframe packages.
Press Release Summary: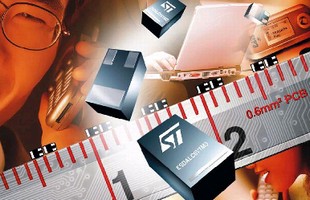 Designed to protect static-dissipative equipment from damage or degradation caused by overvoltage transients, ESD Diode Arrays offer ESD protection up to 15 kV for 1-5 lines. Featuring 2 ESD diodes in SOT883 package, Model ESDALC6V1M3 offers 7 pF capacitance and can be used for 1- or 2-line ESD protection. Models ESDA(LC)6V1M6 and ESDA(LC)6V1-5M6 are 4- and 5-line ESD diode arrays offering 2 different levels of capacitance in Micro QFN package.
---
Original Press Release:

STMicroelectronics Adds ESD Diode Arrays In Micro Leadframe Packages



Ultra-small low-capacitance devices enable ESD protection in high density, space critical applications

Geneva, December 12, 2005 - STMicroelectronics (NYSE: STM) - a leader in ESD (Electrostatic Discharge) protection technology - has introduced a new series of ESD diode arrays in ultra-small micro leadframe packages, which are designed to protect static-sensitive equipment from damage or degradation caused by overvoltage transients. Thanks to their extremely small size, the new devices are ideal for ESD protection in designs where board space is at a premium, such as cellular phones, digital cameras, MP3 players and many other portable applications, as well as in computer and telecom products. Each device in the new series offers ESD protection for between one line and five lines, meeting design flexibility requirements across a range of applications.

The ESDALC6V1M3 is a low capacitance device with two ESD diodes integrated in an SOT883 package. It can be used for 1-line or 2-line ESD protection in various kinds of application. The diode capacitance is around 7pF (Vr=2.5V), making it suitable for high speed data lines or other I/O interfaces. SOT883 is an ultra small package with an area of 0.6mm2, providing up to 50% space saving compared to an SOD523 package. For 2-line applications the board area requirement is only 0.3mm2 per line, even smaller than for the 0402 package.

The ESDA(LC)6V1M6 and ESDA(LC)6V1-5M6 are 4-line and 5-line ESD diode arrays in a micro leadframe package (Micro QFN). Two levels of diode capacitance are available to meet different application requirements in terms of data rate, power dissipation, and other criteria; the capacitance is less than 7pF (Vr=2.5V) for the ESDALC6V1xxM6 series, and is 41pF (Vr=2.5V) for the ESDA6V1xxM6 series. The Micro QFN-6L is the smallest plastic package on the market for an ESD array of up to 5 diodes, its size of only 1.45mm x 1.0mm providing a 44% spacing saving comparing to the current SOT666.

In order to integrate the increased functionality demanded in the next generation mobile phones, in particular - including cameras, memory cards and FM radio - new chipset generations must use the most advanced and thinnest lithography technologies. As a result, ESD is becoming more significant and ESD protection devices are still required. Designers need a device with the highest level of ESD protection in the smallest possible size. At the same time, the device must not affect the integrity of digital and analog signals.

All of these new devices provide ESD protection against surges up to 15kV, meeting the IEC61000-4-2 level 4 specification for ESD immunity. The ESDALC6V1M3 is priced at US$0.10, the ESDA(LC)6V1xxM6 series is in the range $0.20 to $0.25, in quantities of 30,000.

Further information is available at www.st.com/protection.

About ST's Microcontroller, Linear & Discrete Group
STMicroelectronics is a world leader in offering complete system solutions that leverage its rich portfolio of Microcontroller, Linear, and Discrete products, advanced process and design technologies, and applications expertise. This emphasis on solutions allows the Company to minimize time-to-market for all customers worldwide in existing and emerging applications.

About STMicroelectronics
STMicroelectronics is a global leader in developing and delivering semiconductor solutions across the spectrum of microelectronics applications. An unrivalled combination of silicon and system expertise, manufacturing strength, Intellectual Property (IP) portfolio and strategic partners positions the Company at the forefront of System-on-Chip (SoC) technology and its products play a key role in enabling today's convergence markets. The Company's shares are traded on the New York Stock Exchange, on Euronext Paris and on the Milan Stock Exchange. In 2004, the Company's net revenues were $8.76 billion and net earnings were $601 million. Further information on ST can be found at www.st.com

More from Controls & Controllers