ESD Cleanroom Wipe Dispenser eliminates waste, contamination.
Press Release Summary: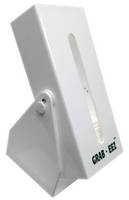 Featuring ESD plastic construction, countertop or wall-mountable GRAB-EEZ™ eliminates waste of wipes used in cleanroom by making it almost impossible to grab more than one wipe simultaneously. Model LIBGENTI-712 ISO Class 5 (Class 100)-compatible, 7 x 12 in. wipes, featuring double C-folded design, stack flat within dispenser. Each wipe offers exposed edge to facilitating grabbing by personnel, which also negates cross-contamination concerns.
---
Original Press Release:

Liberty Industries Introduces a New Product Offering, the New GRAB-EEZ (TM)



Traditionally, cleanroom wipes are supplied in flat sheets and placed on a table in a cleanroom in trays or shallow bins.   The cleanroom personnel often  "thumb" or "fan" through the edges of the stack of wipes, in the attempt to pull up  a wipe.  As they are required to wear gloves, it becomes difficult and cumbersome to obtain just one wipe.  Consequently, cleanroom personnel end up using three or more wipes and waste occurs.  The once neat pile of wipes can become messy and potentially contaminated in a cleanroom.



Liberty Industries introduces a new product offering, the new GRAB-EEZ ™.

This is an ESD Cleanroom Wipe Dispenser that solves the problem and eliminates waste and cross contamination of wipes used in a cleanroom. The GRAB-EEZ ™  is made of an ESD plastic construction and is countertop and wall mountable.  It is very user-friendly and makes it almost impossible to grab more than one wiper at a time.  The wipes are uniquely double C-folded and stacked flat within the dispenser. This allows each wipe to have an exposed edge so that the personnel can easily grab on to one wipe without cross contaminating the next wipe.  Each dispenser is prepared by being cleaned in a cleanroom and double bagged before it is first introduced into the cleanroom where it will be used.



Liberty Industries is also offering the wipes for the  Grab-EEZ ™ .  The Model LIBGENTI-712 wipes,  are a unique double C-folded design 7" x 12" wipe that is ISO Class 5 (Class 100) compatible, 200 each per bag, 12 bags/case . The wipes are tough, abrasion resistant, absorbent, and virtually free of particle generation.  It is comprised of a synergistic blend of virgin polyester and cellulose that is hydro entangled into a uniform and super-tough fabric.  These unique features give this wipe a high degree of absorbency.



Liberty Industries introduces a truly innovative product development enhancement for a cleanroom wipe dispenser and wipes to minimize waste and cross contamination in a cleanroom.



LIBERTY INDUSTRIES

133 Commerce Street

East Berlin, CT 06023

800 828 5656 x 636

www.liberty-ind.com



Cathy Albano

800 828 5656 x 636

More from Non-Industrial Products