Escape Hood is NIOSH approved.
Press Release Summary: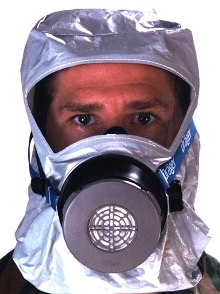 DefendAIR® provides users with filtering protection from tear gas and other atmospheres requiring P100 particulate filter. Offering users 15 minutes of escape from Nuclear, Biological and Chemical warfare agents, hood includes rubber neck seal, clear anti-fogging visor, and integrated nose cup that removes exhaled air containing carbon dioxide. DefendAIR® has adjusting straps to secure hood to user's head and allows voice communication.
---
Original Press Release:
Draeger's DefendAIR(R) First and Only NIOSH Approved Escape Hood

March 18, 2002 - - Pittsburgh, PA - - The DefendAIR® is the first and only escape hood to receive NIOSH government approval (TC-14G-0266), providing users with an effective filtering protection from tear gas and other atmospheres requiring a P100
particulate filter.

The DefendAIR® is a hood with an integrated filter designed to offer users 15 minutes of escape from Nuclear, Biological and Chemical warfare agents that may be encountered by First Responders, Law Enforcement or Emergency Response Personnel. The hood is easy and quick to don, less than 10 seconds, and is proven to be effective against filtering biological agents such as anthrax, sarin and mustard gas.

The DefendAIR® is designed with a rubber neck seal to provide excellent protection against these dangerous agents. It includes a clear, anti-fogging visor for unobstructed vision and an integrated nose cup that removes exhaled air containing carbon dioxide. Allowing quick and easy donning, even for people with beards and glasses, the DefendAIR® uses adjusting straps to secure the hood to the user's head and provides them with excellent voice communication which can be critical in providing direction during emergency escape procedures.

Draeger Safety, Inc.
101 Technology Drive
Pittsburgh, PA 15275-1057
Tel: (412) 787-8383
Fax: (412) 787-2207
www.draeger.net

Editor's Notes:

1. Draeger Safety, Incorporated in Pittsburgh, PA is part of the Draegerwerk, AG group of companies servicing the Safety, Medical, Aerospace, Diving and Computer Information Systems markets. Located in Luebeck, Germany, Draegerwerk, AG employs more than 8,500 people worldwide and has production, sales and distribution facilities located in over 100 countries.

2. Draeger Safety, Incorporated US headquarters and manufacturing facility are located in Pittsburgh, PA and employ approximately 200 people. Established in 1976, Draeger Safety,
Inc. is the largest of Draegerwerk AG's subsidiaries worldwide concentrating in the areas of Gas Detection, Respiratory Protection, Diving and Service. Draeger Safety maintains
satellite sales offices, in Houston, TX; Durango, CO; Los Angeles, CA; and Mexico City.

Wesley J. Kenneweg serves as president and CEO and has been with the Draeger organization since 1983.

3. Principal Product Lines include:

-Electronic gas detection measuring and monitoring instruments and systems

-Self-contained breathing apparatus

-Disposable, half-mask and full-face mask filters

-Electro-chemical and infrared sensor engineering and manufacturing

-Draeger Tubes and Draeger CMS spot measurement gas & vapor sampling

-Underwater semi-closed circuit rebreathers

-Filter and oxygen generating self-rescuers

-Emergency escape breathing apparatus

-Supplied air respirators and systems

-Breathalyzer Products


More from Agricultural & Farming Products