Error Proofing System aids assembly of threaded fasteners.
Press Release Summary: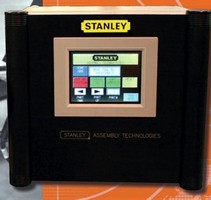 Utilizing position monitoring technology, Tool Position System (TPS) keeps track of assembly tool location and can set specific control parameters for each fastener. It is available for articulating arms from 10-4,000 Nm, and sequence of XYZ fastener positions can be programmed to ensure assembly to specifications. Along with 5 or 10 in. color touchscreen HMI, other features include socket tray option, PLC with built-in power supply, Teach mode, and part pattern storage.
---
Original Press Release:

New Tool Position System (TPS) from Stanley Assembly Provides Error Proofing for Assembly of Threaded Fasteners



CLEVELAND, OHIO February 19, 2008 - The Tool Position System (TPS) from Stanley Assembly Technologies uses position monitoring technology to monitor an assembly tool location and set specific control parameters for each fastener.

TPS is available for articulating arms, from 10 Nm - 4000 Nm. A sequence of xyz fastener positions can be programmed to ensure assembly to specifications. A socket tray option enables different bolt sizes in a sequence.

"Stanley Assembly's Tool Position System, when used with a Stanley articulating arm, makes production more accurate and your operator more efficient by allowing the setup of sequential assembly operations," stated Joe Haluska, Manager, Systems & Service at Stanley Assembly Technologies. "Each fastener's unique specification is set up and secured using the Stanley QPM Controller."

The TPS Features Include:

Color Touch Screen Panel HMI Available in 5" or 10" Sizes

PLC with Built-In Power Supply

Interface to Auxiliary Devices

Storage of Up to 50 Unique Part Patterns

Simple to Use "Teach Mode" for Position, Parameter, Socket Position and Tolerance Band.

Stanley Assembly Technologies' Engineered Systems Group is committed to improving ergonomics and accuracy in assembly operations.

For additional information, contact Stanley Assembly Technologies at 877-709-8006 or visit www.StanleyAssembly.com. Stanley Assembly Technologies provides solutions to the global assembly market, including the motor vehicle industry. Core solutions include high-performance Stanley® DC electric and pneumatic tightening tools and controllers and Cobotics(TM) Intelligent Assist Devices for ergonomic material handling.

The Stanley Works (NYSE: "SWK") is a worldwide supplier of consumer products, industrial tools and security solutions for professional, industrial and consumer use. Consumer products include hand tools, mechanics tools, tool storage, and hardware. Industrial tools include fastening systems, auto assembly tools, storage systems, professional laser measuring and leveling tools and hydraulic attachments. Security Solutions includes the integration and supplying of security systems and access control solutions, including automatic door and locking systems for commercial applications.

Our innovative Consumer and Industrial products help people utilize their skills, express their creativity and realize their visions on work sites around the globe. Brand names include Stanley®, Husky®, Cobotics(TM), Goldblatt®, Bostitch®, Jensen®, Mac®, Proto®, LaBounty®, Vidmar®, CST®, David White® and Zag®. Our Security Solutions brands include Stanley®, Best®, Blick® and Frisco Bay®.

Lindsey McGreal

Account Service Manager

630-654-0170

lmcgreal@market-sense.com

www.market-sense.com

MarketSense

Marketing Solutions. Intelligently Applied.

Client: Stanley Assembly Technologies

Contact: Joe Jerdonek

E-mail: jjerdonek@stanleyworks.com

Phone: (440) 229-9573

Fax: (440) 461-8693

More from Architectural & Civil Engineering Products