Ergonomic Support provides comfort for microscope users.
Press Release Summary: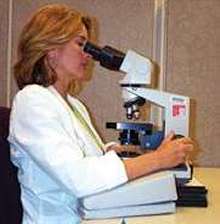 Wedge-Ease enables people who use microscopes to work with their necks, backs, forearms, and wrists in stress-free position for safer working postures and maximum comfort. Product eliminates forearm contact stress caused by leaning on hard work-surface edge and may be used individually or stacked to raise microscope to appropriate position. It has non-slip base and is covered with soft, vinyl material.
---
Original Press Release:

Wedge-Ease(TM) Ergonomic Support Products Provide Comfort and Relief for Microscope Users


Santa Ana, CA - People who use microscopes can now work more comfortably with Wedge-Ease Ergonomic Support Products. These simple, yet effective supports enable the microscope user to work with their necks, backs, forearms and wrists in a stress-free position. Wedge-Ease also eliminates forearm contact stress caused by leaning on the hard worksurface edge. Wedge-Ease can be used with most microscopes, allowing the user to create a custom fit for safer working postures and maximum comfort.

"I purchased the 3 inch Wedge-Ease and it is definitely more comfortable than what I was using before" reports one Pathologist. Originally called "Wedgies," this innovative line was developed by Candice Woodward, PT, CIE, CPE after working with Cyto-Technologists and Pathologists who were uncomfortable while using the microscope. "Not only was comfort an issue, but some people had developed painful musculoskeletal disorders," states Ms. Woodward.

The very nature of microscopy forces the user to accommodate their posture to the equipment, according to Ms. Woodward. Even with the new ergonomic designs, microscopes don't always fit the user. People may be able to achieve a neutral posture for one body part, but other areas may still be in an awkward position. In addition, many users spend most of their workday in a static position. The only movement that does occur is in the hands, leading to a combination of risk factors such as awkward posture, repetitive motion and constant gripping.

Wedge-Ease Ergonomic Support Products can be used individually, or stacked to achieve the necessary support. With Wedge-Ease, users can raise their microscope to place their back and neck in a neutral position while having their forearms and wrists supported. For those who have newer, ergonomic microscopes, the Wedge-Ease "Stacker" is the perfect accessory for ultimate comfort. All products come with a non-slip base and are covered with a soft, easy to clean vinyl material.

www.wedge-ease.com

More from Laboratory and Research Supplies and Equipment