Ergonomic Drawing Displays support touch and pen input.
Press Release Summary: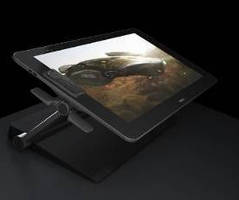 Targeting creative professionals, Cintiq® 27QHD and Cintiq 27QHD touch feature 27 in., 2560 x 1440 display with edge-to-edge glass work surface, 1.07 billion color capability, and support for 97% of Adobe's color gamut. ExpressKey™ Remote lets users control customizable keyboard shortcuts and modifiers, and users can incorporate different pen nibs (including felt). Pressure-sensitive pen, multi-touch, on-screen controls, and Radial Menu help accelerate workflow.
---
Original Press Release:

Wacom® Launches New Flagship Cintiq® at CES 2015



Cintiq 27QHD and Cintiq 27QHD touch feature large work surface as well as best-in-class pen-on-screen and color performance.



TOKYO and VANCOUVER, Wash. -- Today, Wacom launches the Cintiq 27QHD and Cintiq 27QHD touch to meet the increasing demands of creative professionals. Featuring the very best in pen-on-screen performance, Wacom's new flagship Cintiq will delight artists and designers with its large, edge-to-edge glass work surface, spectacular color and attention to ergonomics. The 27" display delivers a seemingly infinite surface, literally letting artists and designers see the bigger picture. To help support a natural and intuitive workflow, the Cintiq 27's new ExpressKey((TM)) Remote, which can be placed anywhere on the screen or desk, gives users more flexibility and power as to how, when and where customizable keyboard shortcuts and modifiers are implemented. Additionally, the Cintiq 27 offers a variety of stand options, providing users the freedom and flexibility to comfortably work with the Cintiq at varying angles for hours and hours.



True to life - excellent color performance and color management

Professionals with color critical workflows will benefit from the Cintiq 27QHD's life-like color quality which displays 1.07 billion colors and 97 percent of Adobe's color gamut.  When it comes to any high-end creative production in art, design, image editing and 3D animation, the Cintiq is the creative tool of choice as artists can be certain that the colors match the printing or other output phases of a project. This is thanks to precision color matching with the Wacom Color Manager, Powered by X-Rite (purchased as an accessory at the Wacom eStore), that sets and fine-tunes the colors for a near exact match.  Members of the Laika animation team, makers of the films The Boxtrolls, ParaNorman and Coraline, uncover the Cintiq 27QHD's "rich and vibrant" color performance here.



Crystal clear - high screen resolution and expansive work surface

Without any physical or visual clutter on the work surface, users can enjoy more space and freedom for creativity than ever before. Chris Tran, CG Modeler and his Laika colleagues, discuss the importance of the Cintiq 27QHD's "ideal" size. Both versions of the new flagship product feature a 27" 2560 x 1440 seamless edge-to-edge glass screen. The extra wide viewing angle enables designers, artists, game or film developers to create rich, detailed, large-scale work directly on the screen. Users can incorporate different pen nibs to increase the natural feel, including the felt nibs, which provide a realistic pen on paper feel.



Pressure sensitive pen, multi-touch, on-screen controls and Radial Menu

The Cintiq 27QHD enables users to enhance and speed up their workflow, as they benefit from a combination of pen, multi-touch (Cintiq 27QHD touch), on-screen controls and a Radial Menu. Pen performance remains the key ingredient to the whole creative pen display experience and the Cintiq's Pro Pen emulates the feel of a traditional brush or marker. Users can draw, paint, design and edit directly on screen with the Wacom pen and its 2048 levels of pressure sensitivity. CG Texture artist from Laika, Holly Webster, explains how "there is nothing that comes close to the control and precision" of the Cintiq 27QHD pen.



The Cintiq 27QHD touch is the ideal solution for those who want to experience simultaneous pen and touch with the latest touch enabled OS and software. It provides an even more intuitive and natural way to work by closely replicating the experience of working with two hands when using traditional materials such as paints, markers and clay. Multi-touch allows users to directly manipulate their work with fingers by rotating, pinching and moving it around. The ability to manipulate a 3D model or pan, zoom and rotate an image with one hand while simultaneously sculpting or sketching with the other delivers a completely natural experience, enabling artists to stay completely in their creative zone.



Versatile - wireless ExpressKey(TM) Remote and additional stand options

Helping improve workflow and creative output, the Cintiq 27QHD comes with the new ExpressKey Remote. This hand-held set of shortcut keys and Touch Ring liberates creatives to focus on their work. It can be placed wherever is most convenient while drawing - either on screen, in the hand or beside the keyboard on the desk. Up to five ExpressKey Remotes can be attached at one time so when combined with the onscreen controls, users have dozens of options to customize shortcut keys by task or by application. Ean McNamara, Illustrator at Laika, states that the new Cintiq provides all the right features "to build your own workspace and make it comfortable."



As with its predecessor, the Cintiq 27 offers best-in-class ergonomics that especially benefit graphic designers and illustrators who work long hours and have to be very precise. Professionals will appreciate the choice of stands that are available, allowing them to find their favorite working position for maximum comfort. The integrated stand means the Cintiq can be either laid flat (five degrees to be exact) similar to a canvas or positioned at a 20-degree angle by extending the legs. An optional Cintiq Ergo stand or 3(rd)-party VESA arm give users the option to adjust the position even further to whatever angle works best for them, whether sitting or standing.



Choosing a Cintiq

With three differently sized stationary Cintiqs (13HD, 22HD, 27QHD) and the mobile Cintiq Companion 2, Wacom offers a complete product family that have one thing in common - a unique pen-on-screen experience. All products can be seen and tested at Wacom's booth at CES (#31642, South Hall) from January 6(th) to January 10(th).



Availability and Pricing

The Cintiq 27QHD ($2299.99 USD) and Cintiq 27QHD touch ($2799.99) replace the Cintiq 24HD models and will be available in late January.



About Wacom

Wacom's vision to bring people and technology closer together through natural interface technologies has made it the world's leading manufacturer of pen tablets, interactive pen displays and other digital interface solutions. The advanced technology of Wacom's intuitive input devices has been used to create some of the most exciting digital art, films, special effects, fashions and designs around the world. Wacom devices provide business and home users with the ability to explore digital content in a comfortable and natural way. Millions of customers are using its cordless, battery-free, pressure-sensitive pen technology.



The company also offers its products as OEM solutions to leading manufacturers serving incremental markets. Wacom's interface technology, called Wacom Feel IT Technologies, is also offered as an integrated solution to strategic partners. Most Tablet PC manufacturers count on the advanced features and reliability of the brand to deliver a superior user interface experience.



Douglas A. Little

Sr. Public Relations Manager

Wacom Technology Services, Corp.

douglas.little@wacom.com

More from Electrical Equipment & Systems