EPP-EPS Pallet Seals meet ISTA 7E standards.
Press Release Summary: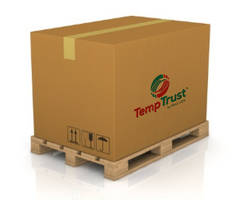 Maintaining temperature up to 200 hours at 3 different temperature ranges, EPP-EPS Pallet seals consists of pallet shipper, PCMs, SOPs, and all qualification documentation. Product comes with tinted black for reducing appearance of blemishes. Units are lightweight, reusable and reduces refrigerant costs.
---
Original Press Release:
Mesa Labs Reveals the New TempTrust™ Extreme Pallet Solution
New EPP-EPS Pallet seals in the cold for up to 200 hours, is reusable and reduces refrigerant
Mesa Labs, has announced the first qualified pallet solution to maintain temperatures to over 200 hours. This new evolution in passive solutions is ultra-lightweight, reusable, reduces refrigerant and replacement costs.
EPS has long been the standard for temperature controlled packaging. It is lightweight, can be molded to most any shape and is recyclable. It is, however, too fragile to ship without a corrugate outer container to protect it. EPP (expanded polypropylene), however, has been used by the automotive industry for years to construct lightweight bumpers that not only absorb impact but also bounce back to the original shape.
"The TempTrust Extreme product line combines both materials to create a lightweight solution that not only holds temperatures far beyond conventional eps-pallet solutions but it resilient to the bumps and gashes that can normally hit packaging in transit or storage, said Jean Bedard, VP of Cold Chain Operations at Mesa Labs. "When you combine these unique characteristics with an ISTA certified and PCM optimized solution, you get a solution that maximizes the customer packaging investment by reducing its weight and enabling maximum reuse. No corrugate outer shell needed."
Key Features of the TempTrust Extreme Pallet
Durable EPP outer shell holds up to the most unforgiving shipping environments and prevents the need for costly packaging replacements.
Tinted black to reduce the appearance of blemishes and keep your packaging looking new
Qualified to 200 hours at 3 different temperature ranges using the ISTA 7E standard. Additional configurations, durations, and temperature ranges available upon request.
The complete solution includes pallet shipper, PCMs, SOPs, and all qualification documentation
Contact:
Mesa Labs - Packaging Division
12100 W 6th Ave
Lakewood, CO 80228, 1860
Phone: 905-470-1318
Url: http://temptrust.mesalabs.com/
Related