Epoxy Primer inhibits moisture vapor emissions on concrete floors.
Press Release Summary: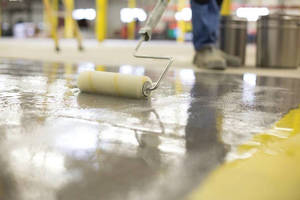 Applied at 16.0–20.0 mils dry film thickness, Series 208 Epoxoprime MVT helps protects bond line between floor topping system and concrete surface. This 100% solids, 2-component, clear epoxy primer, formulated to withstand RH up to 95% and resist alkalinity levels up to pH 14, is suited for newly poured and existing concrete slabs and can be applied as early as 10 days after newly placed concrete is installed. Following application, primer can be topcoated after 6–8 hr ambient cure.
---
Original Press Release:
Epoxy Primer Inhibits Moisture Vapor Emissions on New and Existing Concrete Floors
(KANSAS CITY, Mo.) –Tnemec Company, Inc., a leading manufacturer of high-performance protective coatings, has introduced a moisture vapor tolerant, high solids epoxy primer for newly poured and existing concrete slabs. Series 208 Epoxoprime MVT is a two-component, clear epoxy primer with low viscosity for superior penetration and adhesion to concrete. Series 208 is specially formulated to resist high pH and help protect the bond line between the floor topping system and the concrete surface, according to Joe Schmit, director of the StrataShield flooring division.

"Moisture vapor-related coating failures in new and existing concrete are common," Schmit explained. "Bubbling and blistering, which can lead to delamination of a coating system occurs when moisture vapor travels upward through the concrete floor, carrying with it various highly alkaline components, such as salts and chlorides which raise the pH and attack the coating system at the bond line."

Applied at 16.0 to 20.0 mils dry film thickness (DFT), Series 208 penetrates the concrete surface to provide excellent adhesion and ultra-low permeability, helping to reduce moisture from escaping new and existing concrete surfaces where elevated moisture vapor transmission levels are of concern.

Series 208 can be applied as early as 10 days after newly placed concrete is installed instead of 28 days, which is the standard cure time for other primers. The 100 percent solids primer conforms to the volatile organic compound (VOC) requirements of every air district in the U.S. and its low odor allows it to be used in occupied areas, making it ideal for fast-track projects where sustainability is a consideration.

"Even when concrete is at full strength and fully cured, the substrate is still porous, so moisture vapor transfer and high alkalinity may still be a concern," Schmit shared. "Series 208 offers added assurance for existing concrete where MVT levels exceed the capabilities of other concrete flooring primers."

Series 208 withstands moisture vapor transmission up to 15 pounds in accordance with ASTM F1869 Standard Test Method for Measuring Moisture Vapor Emission Rate of Concrete Subfloor Using Anhydrous Calcium Chloride. The primer withstands relative humidity up to 95 percent in accordance with ASTM F2170 Standard Test Method for Determining Relative Humidity in Concrete Floor Slabs Using in situ Probes. The primer also offers excellent resistance to high alkalinity levels up to pH 14.

Following application, Series 208 can be topcoated after six to eight hours of cure time at ambient temperatures. "A selected floor topping system is then recommended to provide the appropriate service for the intended environment and service considerations," Schmit added. "The end result will be a resinous flooring system that resists moisture vapor transmission."

Series 208 has been used successfully in combination with epoxy and epoxy-urethane topcoat systems for color and gloss retention. At the AVX Corporation facility in Fountain Inn, South Carolina, a major flooring renovation of hallways, production areas and restrooms used Series 208 primer in addition to a multi-purpose decorative epoxy and chemical-resistant urethane topcoat. At the Shoal Creek water treatment plant in Buford, Georgia, Series 208 was applied at 16.0 mils, followed by a modified polyamine epoxy intermediate coat and a waterborne epoxy-amine topcoat.

ABOUT TNEMEC
Established in 1921, Tnemec is one of the largest privately held companies in North America specializing in protective coatings for steel, concrete, and other substrates for new construction and maintenance. Tnemec manufactures more than 120 coating and lining products at facilities in Kansas City and Baltimore. Headquartered in Kansas City, Tnemec operates distribution facilities in Atlanta, Dallas, Indianapolis, New Orleans, Seattle and Compton, Calif. In addition to the company's American network of technical representatives, Tnemec has technical representatives in Canada, the Dominican Republic, Puerto Rico and Trinidad. For more information about Tnemec Company, Inc., or any of its products, call 800-863-6321; write to 6800 Corporate Drive, Kansas City, Mo., 64120-1372; or visit www.tnemec.com.
More from Software