EPCOS MKP X2 Capacitors suppress EMI.
Press Release Summary: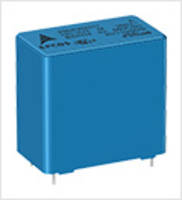 Suitable for photovoltaic inverters, capacitive power supplies and input/output filters, EPCOS MKP X2 Capacitors offer 350 V AC rated voltage. Meeting UL and EN standards, units provide 0.47 µF to 10 µF capacitance. Available with 27.5 mm and 37.5 mm lead spacing, capacitors operate up to 110C. Featuring high current capability, units offer stable capacitance even under severe ambient conditions.
---
Original Press Release:
Film Capacitors: Robust Industrial Grade X2 Capacitors with a Rated Voltage of 350 V AC
TDK Corporation presents a new series of robust EPCOS MKP X2 capacitors for EMI suppression. Compared with conventional X2 capacitors designed for rated voltages of 305 V AC, these new components offer a higher rated voltage of 350 V AC. This makes them suitable for EMI suppression in input filters – specifically for applications on the North American market – and output filters of photovoltaic inverters, for example.
The capacitance range extends from 0.47 µF to 10 µF in accordance with the E12 series. Even under severe ambient conditions the new capacitors are characterized by a stable capacitance, as verified in damp heat tests, in which the change in capacitance does not exceed 7.5 percent (test conditions: 1000-hours at 85°C with a relative humidity of 85 percent and a voltage of 330 V AC). The maximum operating temperature of the components is 110 °C.
The X2 capacitors are approved in accordance with UL and EN and, depending on the capacitance, are available with a lead spacing of 27.5 mm (B32924*4*) or 37.5 mm (B32926*4*). Both the casing and the epoxy resin sealing material comply with the UL 94 V-0 standard.
The capacitors are especially suitable for applications with higher demands in terms of current capability, as well as capacitive power supplies.
Main applications
Input and output filters, photovoltaic inverters, capacitive power supplies
Main features and benefits
Increased rated voltage of 350 V AC
High current capability
Stable capacitance, even under severe ambient conditions
Further information on the products can be found under www.epcos.com/emi_capacitors
About TDK Corporation
TDK Corporation is a leading electronics company based in Tokyo, Japan. It was established in 1935 to commercialize ferrite, a key material in electronic and magnetic products. TDK's portfolio includes electronic components, modules and systems* marketed under the product brands TDK and EPCOS, power supplies, magnetic application products as well as energy devices, flash memory application devices, and others. TDK focuses on demanding markets in the areas of information and communication technology and consumer, automotive and industrial electronics. The company has a network of design and manufacturing locations and sales offices in Asia, Europe, and in North and South America. In fiscal 2016, TDK posted total sales of USD 10.2 billion and employed about 92,000 people worldwide.
North America
Debbie Martin
EPCOS Inc. Fountain Hills, AZ/USA
Phone +1 480 836-4104
Related