Additive Manufacturing Services
EOS M 300-4 Additive Manufacturing System Comes with Configurable and Scalable Equipment Architecture
Press Release Summary: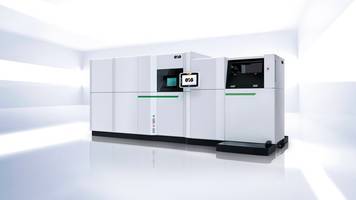 The EOS M 300-4 Additive Manufacturing System is designed for digital industrial production. The system delivers industrial-grade and integrated data, powder and part flow.
---
Original Press Release:
EOS Unveils EOS M 300 Series for Digital Industrial AM Production
EOS M 300-4, the first system of the new series, unveils at IMTS in Chicago: reliable DMLS quality, configurable and scalable equipment architecture
CHICAGO, Sept. 19, 2018 /PRNewswire/ -- EOS, the world's leading technology supplier in the field of industrial 3D printing of metals and polymers, showcased its latest systems and solutions at the International Manufacturing Technology Show(IMTS) in Chicago, IL.EOS launches the new EOS M 300-4 system which is part of the broader, modular metal 3D printing platform EOS M 300 for digital industrial additive manufacturing(AM) production.
A system line for the most demanding customer requirements
Tobias Abeln, Chief Technical Officer(CTO) emphasizes, "With its modular set-up and its scalable and flexible concept, the new system line focuses on the high customer demands for AM production. It sets a clear focus on productivity, and lowest costs-per-part and was developed for automation and (software) integration in current and future factories." He shares, "The EOS M 300 series is the only 3D printing solution for digital industrial production and specifically meets the demanding requirements in a production environment. It offers industrial-grade and integrated data, powder and part flow and can be easily incorporated into production facilities. We bring this technology into smart factories."
Stefan Seidel, CTO Pankl Racing System AG states, "The EOS metal technology has a proven track record of being the most reliable AM solution for industrial production demands currently available on the market. We are pleased to be able to use the latest EOS system, EOS M 300-4, as a pilot customer in our Pankl AM Competence Center. The platform impresses with maximum productivity, quality and precision together with its potential for automation. The system fits perfectly into our approach of the automated factory and is key to meet the high requirements of our customers, for example in the automotive sector."
About EOS
EOS is the world's leading technology supplier in the industrial 3D printing of metals and polymers field. Formed in 1989, the independent company is pioneer and innovator for comprehensive solutions in additive manufacturing. Its product portfolio of EOS systems, materials, and process parameters gives customers crucial competitive advantages in terms of product quality and long-term economic sustainability of their manufacturing processes. Customers benefit from deep technical expertise in global service, applications engineering and consultancy. http://www.eos.info.
Stephanie Cheong
stephanie.cheong@eos.info 
+65-6430-0541
More from Material Handling & Storage