Environmental Enclosure protects thermal imager.
Press Release Summary: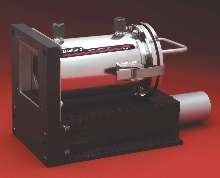 Model X2EEAP provides protection for Maxline 2 Thermal Imaging Camera by keeping lens clean and electronics cool. Air-purge feature uses plant air to create curtain of flowing air that prevents dust from reaching camera lens. Cooling jacket uses circulating water to keep heat from penetrating beyond outer jacket to camera electronics, protecting camera from ambient temperatures to 356°F. All exposed portions of enclosure are stainless steel or powder-coated aluminum.
---
Original Press Release:

Environmental Enclosure Protects Thermal Imager in Industrial Applications


By now it's no secret that Ircon, Inc. has been introducing various thermal imaging systems for use in the industrial marketplace. Part of the challenge of building systems that withstand the rugged applications found in heavy industry is protecting the delicate optics and electronics of the thermal imaging camera from the elements. With that in mind, Ircon is pleased to announce the X2EEAP Environmental Enclosure and Air Purge Accessory.

The X2EEAP is a protective environmental enclosure designed specifically for the Ircon Maxline 2 Thermal Imaging Camera. The enclosure provides two main functions in protecting the camera: keeping the lens clean and keeping the electronics cool. The air purge feature of the X2EEAP enclosure uses plant air to create a "curtain" of flowing air that prevents dust and other outside debris from reaching the camera lens. This method eliminates the issue of a dirty window found on most aftermarket camera enclosures. The cooling jacket uses circulating water to keep heat from penetrating beyond the outer jacket to the Maxline 2 camera electronics. The water cooling jacket can protect the Maxline 2 Thermal Imaging Camera from high ambient temperatures up to 356°F (180°C); much higher then typical aftermarket camera enclosures. All exposed portions of the Ircon environmental enclosure are either stainless steel or powdercoated aluminum to further protect the camera from corrosive atmospheres.

Along with the X2EEAP Environmental Enclosure, Ircon also offers the X2B blower and X2AHHD hose assembly. The X2B blower is ideal for remote applications where plant air is not available or not feasible to connect to. The X2AHHD is a complete flexible hose assembly (50 ft length) and all the necessary hardware to mate the blower to the enclosure.

Applications for the X2EEAP Environmental Enclosure are commonly found in steel mills, foundries, glass plants, cement production, and other manufacturing processes that incur dust and high temperature.

For more information on the Maxline 2, X2EEAP Enclosure, or any of the products in IRCON's product line contact IRCON, Inc., 7300 North Natchez Avenue, Niles, IL 60714; tel:1-800-323-7660 ext. 258; fax: 847-647-0948

More from Sensors, Monitors & Transducers