Enhanced 90-Line Right Angle Beam Bender comes with precision penta-prism.
Press Release Summary: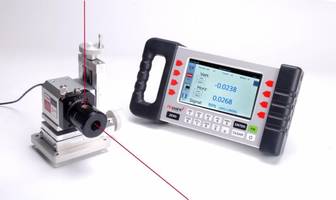 Housed in aluminum package, Enhanced 90-Line Right Angle Beam Bender Alignment Accessory features adjustable knobs for locking laser beam position and fine angular control. Used for aligning and checking planer squareness and parallelism on assemblies, machinery and equipment, unit comes with anodized protective coating. Equipped with rotatable nosepiece, product comes with alignment detector.
---
Original Press Release:
New Product Spotlight: Enhanced 90-Line Right Angle Beam Bender
Pinpoint Laser Systems Rolls out 90 Degree Field of View for Alignment Projects
The Enhanced 90-Line is Pinpoint's newest innovation for aligning and checking planar squareness and parallelism on assemblies, machinery and equipment. There's no fuss adding this custom-built accessory to your Microgage laser alignment system. The precision alignment results will make your alignment projects run smooth. Checking gantries, web and roll equipment and CNC machine tools for peak alignment and efficiency has never been so fast and easy. The penta-prism provides measurement data at the micron level and is used for bending the laser precisely 90°. Combined with a highly accurate alignment detector, the precision penta-prism and alignment detector form a user-friendly housing unit that is versatile in use and in capturing reliable results right to your factory floor.
Customizable and compact, the Enhanced 90-Line is encased in aluminum housing that makes it more than just a high-end, heavy-duty alignment accessory. The laser light beams through the housing unit's control view, which turns full rotation creating a square reference plane. The unit features adjustable knobs for locking the laser beam position and fine angular control. As the laser exits the Enhanced 90-Line unit, the beam is square to the incoming beam within 0.0006 degrees, or to 0.001 inch, over a distance of 8 feet. In addition, the nosepiece can be rotated so that the exiting beam forms a plane of light that is square to the incoming laser. The 90-Line uses glass precision optics and is machined from a solid aluminum block with a hard, anodized protective coating.
About Pinpoint Laser Systems
Since 1992, Pinpoint has offered a broad line of innovative alignment and measurement laser systems that are easy-to-use, versatile and portable. These products are designed for quick ROI by decreasing manufacturing downtime and increasing product quality. These laser alignment tools are used for both routine and complex measurement and alignment tasks, delivering measuring resolution of 0.0001 inch and working over ranges of 180 feet. Pinpoint's aligning equipment is actively used in a diverse range of industries, including aerospace, aircraft, machine shops, paper and textile mills, shipbuilding facilities, medical scanning equipment, extrusion plants, and electronic assembly facilities, to name a few. Pinpoint offers customized solutions, working closely with manufacturers to engineer specialized products for their unique applications.
###
For more information on this product or other news items, please contact Pinpoint Laser Systems, Inc. at 1-800-757-5383 (US) or 978-532-8001 or email your questions to jwing@pinpointlaser.com. 
Contact This Company Download Spec Sheet
More from Communication Systems & Equipment