Engraving Machine Upgrade enables speeds up to 8 ips.
Press Release Summary: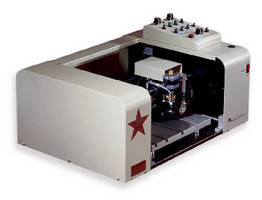 Available for 912 Star Engraving Machines, Viper Electronics® Upgrade provides replacement of electronics, analysis of mechanical parts, and repair/replacement of components that are not performing to factory specification. Package includes color touchscreen pendant with full control of job, Ethernet communications, and numerous Viper Communication Suite software features, such as job performance reports and end of job e-mail notification.
---
Original Press Release:

Xenetech's Announces Viper Electronics® Upgrades Now Available for 912 Owners



Xenetech is now offering Viper Electronics® upgrades for rotary "912 Star" engraving machines purchased from 1996 through 2003. The upgrade will essentially bring the older system to new system performance specifications for thousands of dollars less than the cost of a new machine.

As a part of the upgrade, Xenetech technicians will replace the system's electronics with Viper Electronics®, conduct a full analysis of the mechanical parts, and repair or replace any components not performing to factory specification. This includes leadscrews, leadscrew nuts, system bearings, spindle bearings, and motors. When the upgraded 912 leaves the Xenetech factory, it will have gone through the same quality assurance as a new system and perform at the same level as a new 912 system.

"There are hundreds if not thousands of older 912 owners that have a perfectly good engraving table with many years of life remaining," stated company President Guy Barone. "Essentially, this upgrade allows the owner to realize immediate and significant utility and productivity gains with the latest technology, all at a tremendous return on investment. This has been a very popular option."

The new Viper Electronics® in the upgraded 912 will provide:

- Fast Engraving Speeds (up to 8 ips with some models) with High Quality output;
- Color Touch Screen Pendant with full control of the job including on-the-fly engraving speed adjustments, forward/backward by line character/character/plate, job preview with pan and zoom, remote job monitoring, and much more;

- Numerous Viper Communication Suite software features including job performance reports and end of job e-mail notification;

- Fast and Reliable Ethernet communications enabling you to plug into your network or a laptop and create a virtually unlimited job queue (no more card required for your computer!);

- A One Year Warranty, Xenetech's latest XGW engraving software (and yes, it will open your old Xenetech jobs), and a print driver for use with third party software like CorelDraw®; and

- Full Support from Xenetech's Customer Service Professionals.

Xenetech develops and manufactures a full line of computerized rotary engraving systems, laser engraving systems, and professional engraving software for the recognition, sign, rubber stamp, jewelry, gift, and industrial marking industries. Established in 1986, the company is based in Baton Rouge, Louisiana and supports a global distribution network. For more information about the new 912 Viper upgrades or Xenetech's family of engraving products, browse their website at www.xenetech.com or call them at 225-752-0225.

More from Software