Engraver combines CO2 laser and diamond drag functionality.
Press Release Summary: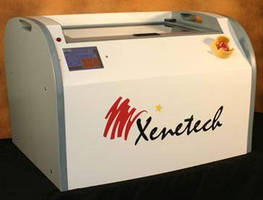 Featuring desktop form factor, Duo combines laser engraving and cutting capabilities of CO2 laser with diamond drag engraving capability of rotary engraver. It accommodates range of materials and is controlled via color touch-screen pendant. Along with 4¾ in. Z-axis clearance, rigid extruded X-axis with polymer bearings, and 75 ips raster engraving capability, system offers XGW-32 professional engraving application software with laser and rotary engraving support.
---
Original Press Release:

Xenetech Invents First 'Duo' Laser and Diamond Drag Desktop Engraver



Baton Rouge, La. - Xenetech announced today that the company has combined the laser engraving and cutting of a CO2 laser with diamond drag engraving capability of a rotary engraver into one system. Xenetech's new "Duo" will enable engraving on a wide variety of materials including reflective metals - aluminum, brass, silver, gold, and stainless steel, plastics, wood, acrylics, leather, glass, coated metals, and more. The company believes this technology is the first of its kind in the world and has a patent pending.

The Duo fits on a desktop and sports a futuristic looking case. It features a full color touch screen control pendant, a sturdy four-point leadscrew/rail table mount design, 4 ¾" of z axis clearance, a dual laser and diamond drag capable motion system, a rigid extruded x-axis with polymer bearings, and 75 inches per second raster engraving capability. Each system will ship with a copy of XGW-32 professional engraving application software which enables both laser and rotary engraving. In addition, a laser print driver will be available for use with third party design software such as CorelDraw®.

"We currently produce stand alone laser engraving/cutting systems as well as diamond drag or scratch systems, but we wanted to provide users with the ability to do both without buying two machines," stated Xenetech President Guy Barone. "We talk with customers every day that need both forms of engraving to satisfy their customers. Sometimes they need more of one form than the other, but regardless they need both types of engraving and end up buying two machines or turning away work. Now the Duo will replace the need to buy two machines and it will be their busiest machine because of all it can do."

Xenetech combined its 22 years of experience with rotary and laser engraving motion systems to formulate the new Duo design. In addition, many of the key component parts are borrowed directly from proven designs used in prior Xenetech laser and rotary systems such as the electronics and bearings.

"This system utilizes the best of Xenetech's motion system, laser beam delivery, electronic, and mechanical engraving technologies," stated Research and Development Vice President John Lundberg. "The use of these technologies together was a natural progression for Xenetech and will be a natural progression for the entire engraving industry. We are extremely pleased to offer this new product."

The Duo will be shown for the first time at the Awards and Recognition Association International Trade Show at the Las Vegas Convention Center, Booth 121, February 25 through 27. In addition, the AES Group will show the Xenetech Duo in their booth 81-112 at the Visual Impact Image Expo, in Melbourne, Australia, March 6 and 7. Xenetech will be taking orders at these shows for shipment this spring.

Xenetech develops and manufactures a full line of computerized rotary engraving systems, laser engraving systems, and professional engraving software for the recognition, sign, rubber stamp, jewelry, gift, and industrial marking industries. Established in 1986, the company is based in Baton Rouge, Louisiana and maintains a global distribution network. For more information about the new Duo or Xenetech's family of engraving products, browse their website at www.xenetech.com or call them at 225-752-0225.