Engis to Exhibit Superabrasive Finishing Solutions at SOUTH-TEC®, Booth #329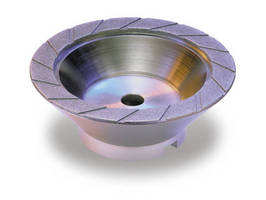 Engis Corporation, a leading provider of superabrasive finishing systems and high precision micron diamond and CBN powders, will showcase its grinding, honing, lapping and polishing products.

WHEELING, Ill. - Engis Corporation will showcase its new ElectroMill(TM) diamond and cubic boron nitride (CBN) electroplated wheels for indexable milling applications at SOUTH-TEC® (booth #329), October 11 - 13 at the Charlotte Convention Center. Engis experts will also be on hand to show their full line of Hyprez lapping and polishing machines and consumables, high precision micron diamond and CBN powders, as well as Dia-ForZ(TM) grinding products for foundry clean rooms. Visitors can also see a video demonstration of Engis' single-pass bore finishing process, which surpasses conventional honing by using fixed-size bore finishing tools coated with diamond abrasive particles.

Engis has earned a reputation for having its technology experts work hand-in-hand with end-users to develop custom solutions. By optimizing all components in a specific application, Engis systems produce more consistent surface finishes and more predictable removal rates, which in turn help companies achieve goals related to quality, reject rates and per-piece finishing costs.

Additional Information

ElectroMill Wheels

Engis designed the ElectroMill to replace expensive, complex indexable carbide milling cutters in high volume production finishing applications that require extremely accurate flatness, close part tolerances and repeatable consistency. With the right machine tool conditions and speed/feed parameters, ElectroMill wheels significantly increase throughput and reduce tool costs, tool changeover and down time. The ElectroMill can be successfully applied in marine, small engine, automotive, off-road, agriculture, aerospace, defense and other industries across a wide variety of components, as well as ferrous, non-ferrous and exotic materials.

Grinding Products for Foundry Clean Rooms

Dia-ForZ (diamond force) diamond plated grinding wheels offer several significant advantages over conventional bonded abrasive wheels, including:

o Increased safety. The wheel body will not fail, break or come apart due to abuse or over-speeding.

o Increased cutting action, which results in better ergonomics and less fatigue.

o Longer wheel life for better productivity and lower costs.

o No loss of wheel diameter or peripheral wheel speed due to wheel wear, and virtually no grinding dust from wheel wear.

Single-Pass Bore Finishing Systems

Compared to conventional bore honing, where the abrasive tool expands, Engis' single-pass process removes material by using progressively larger tools in ever-reducing increments with progressively finer diamond size. Systems such as Engis' Small Precision Machine (SPM) and Large Performance Machine (LPM) Series delivers surface finish to better than 0.1µm Ra on most materials.

Lapping Systems

Engis engineers its Hyprez (high precision) line of lapping and polishing systems for demanding flat lapping and polishing processes. The company offers a full range of machines, machine accessories and consumables that work in harmony to achieve the best possible part quality at the lowest overall cost. The Hyprez Process Development Labs are staffed with technicians who have decades of experience in both the lapping and polishing of a wide variety of materials. This makes Engis uniquely positioned to design machine tools and accessories, as well as formulate all of the consumables, to ensure optimum lapping performance.

The new FastLap Facing Device, an optional upgrade to Engis FastLap lapping machines, revolutionizes lapping plate preparation. Lapping plates conditioned with the FastLap Facing Device produce more consistent surface finishes and more predictable removal rates, helping manufacturers achieve quality goals, reduce reject rates and lower overall production costs.

About Engis

Engis Corporation, headquartered in Wheeling, Ill., is a leading provider of superabrasive finishing systems and high precision micron diamond and CBN powders. Engis solutions include grinding, honing, lapping and polishing products, as well as fully configured, custom-developed manufacturing systems. Industries served include electronics, semi-conductor, medical devices, aerospace, ceramics, mold/tool/die, automotive, mechanical valves/seals, foundries and more.

For more information, visit Engis' Web site at www.Engis.com or call 800-993-6447 or +1-847-808-9400, e-mail info@engis.com, fax +1-847-808-9403 or write to Engis Corporation, 105 West Hintz Road, Wheeling, Ill., 60090.


More from Cleaning Products & Equipment