Engine Silencers keep diesel and gas engines quiet.
Press Release Summary: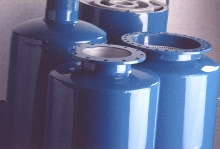 Product line includes four grades of engine silencers: Industrial grade for minimal silencing with noise reduction of 20 dB; Residential grade for moderate silencing with noise reduction of 25 dB; and Critical and Hospital grades for maximum exhaust silencing from 25 to +40 dB, respectively. Line also includes specialty units such as spark arresting silencers; low-pressure drop units; space saving units, which are 50% smaller than conventional units; and insulation blankets.
---
Original Press Release:
Universal Launches New Engine Silencer Product Line
Need an effective exhaust noise control solution for your engine? Acoustic engineering expert Universal Silencer is pleased to announce its new engine silencer product line for diesel and gas engine exhaust noise control is available from the company's headquarters in Stoughton, WI. This complete line of engine silencing solutions, engineered for diesel and gas engines, complements the company's existing power gen and industrial silencing solutions. Universal Silencer now offers four different standard designs for varying attenuation levels. The Industrial grade is recommended where minimal silencing is needed, and can reduce noise levels by 20 dB. The Residential grade silencers are best for moderate silencing and can reduce noise by 25 dB. When maximum exhaust silencing is required, the Critical grade (attenuation to 25 dB) and the Hospital grade silencers (more than 40 dB) provide maximum silencing capabilities. Additionally, the new line includes specialty units such as spark arresting silencers, which safely remove sparks from exhaust gas while reducing noise; low-pressure drop units that attenuate with a very low pressure loss; and space saving units, which are 50% smaller than conventional units and fit in tight areas such as packages and enclosures. Accessories round out this new engine silencer offering, with hundreds of insulation blankets, connectors, elbows, extensions, clamps and multiple mounting options are immediately available worldwide. For more information, call Universal Silencer at 888.300.4272 or visit the company's web site at www.universalsilencer.com. Universal Silencer, headquartered in Stoughton, WI, is a global provider of noise control and air filtration systems and solutions. Founded in 1959, Universal is an engineering- and innovation-oriented organization dedicated to fulfilling customer needs for noise attenuation and air filtration solutions through product research and development. Universal has strong customer partnerships in the industrial process, power generation, emissions and oil & gas markets, serving a variety of OEMs, end-users and packagers. The company's solutions are integral to electric utilities, large diesel engines, and industrial blowers, fans and compressors used in air movement applications. Universal Silencer is a proud member of the filtration business unit of Cummins Engine Company. Universal is an ISO-certified manufacturer. For additional information, go to www.universalsilencer.com.
More from Fluid & Gas Flow Equipment