Engine-Driven Welder/Generators minimize fuel use and sound.
Press Release Summary: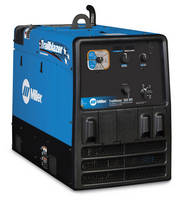 Respectively offering 275 and 325 A of welding power at 100% duty cycle, Trailblazer® 275 and 325 deliver 12,000 W peak/10,500 W continuous generator power. Smart-Cor™ technology provides independent weld and generator power, while Auto-Speed™ technology automatically adjusts engine speed to run at lower speeds determined by load applied to machine. Suited for Stick, MIG, Flux-Cored, and DC TIG welding, generators can power Spectrum® plasma cutters and are optimized for truck integration.
---
Original Press Release:

New Miller Trailblazer® Engine-Driven Welder/Generators Feature Exclusive Technologies to Reduce Fuel Use and Sound; Provide a Smaller Footprint



New product highlights:

• Up to 35 percent reduction in fuel use provides significant cost savings and extends runtimes by as much as 50 percent

• Sound reduced by as much as 68 percent for safer, more productive jobsites

• Up to 5 inches shorter and 108 pounds lighter than previous models for easier mobility and a smaller footprint, taking up less truck space and reducing weight

• Independent welder and generator power ensures no interaction between power tools and the welding arc for optimum weld quality

• Auto-Speed™ technology automatically adjusts engine speed to run at lower speeds based on power demands, saving fuel and reducing noise



APPLETON, Wis. – Miller Electric Mfg. Co. has introduced the new Trailblazer series of engine-driven welder/generators – the Trailblazer 275 and Trailblazer 325. Built for general construction, structural steel, maintenance and repair, mobile fabrication, and farm and ranch applications, the new Trailblazer welder/generators offer a number of industry-first technologies designed to reduce fuel use by as much as 35 percent, extend runtimes by 50 percent, reduce noise by 68 percent, and provide a smaller and lighter footprint for ease of mobility and more space on work trucks.



Two industry-exclusive technologies anchor these new welder/generators: Smart-Cor™ technology and Auto-Speed™ technology. Smart-Cor technology provides independent weld and generator power, ensuring no interaction between the welding arc and jobsite tools such as grinders and chop saws. Welder/generators without this capability can cause fluctuations in the welding arc when a load is simultaneously applied to the generator, creating an erratic arc. Auto-Speed technology automatically adjusts the engine speed to run at lower speeds determined by the load applied to the machine. Whereas other comparable welder/generators operate at 3,600 rpm at all times, the new Trailblazer series varies its output based on demand. For instance, welding with a 1/8-inch Stick electrode can be accomplished at idle speeds of 2,400 rpm. This significantly lowers fuel use and cost, and helps reduce noise in the work area rather than having a machine constantly running at full speed.



"We designed these machines to be the most fuel efficient gas engine-driven welder/generators produced in this size class without sacrificing any power and performance," said Chris Wierschke, product manager, Miller. "These advances, along with design changes to the way the machine is built, allow for extremely quiet operation and a noticeably smaller and lighter layout. We've also built a number of recommended optional technologies into the Trailblazers that make these machines extremely fuel efficient while driving down total operating costs over time."



Excel power, EFI add to fuel efficiency

In addition to Auto-Speed technology, there are two recommended options on both the Trailblazer 275 and 325 that significantly improve fuel efficiency: Excel™ power and Electronic Fuel Injection (EFI). Excel power is a new and exclusive technology from Miller that allows users to run most jobsite tools at idle speed (2,400 rpm) – saving fuel and reducing noise. In traditional welder/generators, the machine immediately ramps up to 3,600 rpm when a generator load is applied. With Excel power, users get 2,400 watts of pure 120-volt, 60-hertz generator power (completely separate from the machine's standard generator power). This provides powerful and clean generator power, and allows users to run tools and low-amperage welding arcs simultaneously at idle speed.



EFI optimizes the air/fuel ratio for reduced fuel consumption, longer runtimes, fewer emissions and superior performance compared to carbureted models. It provides more reliable starting performance in cold climates, requires no choke, and is less prone to fuel deterioration due to infrequent use. When added together, these technologies allow for runtimes up to approximately 19.5 hours on a single 12-gallon tank of gas, and annual fuel savings up to $1,600 (based on typical usage ).



"I can run this machine about 20 hours on one tank of gas," said Chad Hummel, superintendent, Coastal Steel. "I believe it's about 30 to 40 percent better on gas than other machines. You might get 12 hours out of (other machines), but they either run on low idle or high idle – it's all the way or nothing."



Strong multiprocess welding capabilities and generator power

The new Trailblazer series welder/generators provide excellent Stick, MIG, Flux-Cored and DC TIG welding performance. The machine offers excellent carbon arc gouging performance, and the generator is able to power Spectrum® plasma cutters for additional cutting and gouging flexibility. The new Trailblazers also feature Wave Filter technology and a 10-degreee skewed motor that provides extremely "clean" generator power for running jobsite tools with sensitive electronics such as plastic fusion welders, bore welders and appliances.



Each Trailblazer welder/generator has also been fully optimized for truck integration. The shorter and lighter design (up to 5 inches shorter and 108 pounds lighter) allows more room for other tools and equipment, and reduces the wear and strain of a heavier machine on the truck's chassis. Daily maintenance has also been made easier with front panel displays to help users keep track of service intervals, as well as the intuitive placement of service points. Each machine is tested and rated for use at 104 degrees Fahrenheit, making it suitable for work in all climates and conditions.



The Trailblazer 275 and Trailblazer 325 offer 275 amps and 325 amps of welding power at 100 percent duty cycle, respectively, in all welding processes, as well as 12,000 watts peak/10,500 watts continuous generator power. The new Trailblazer models represent an improvement in arc quality and offer new features designed to improve total weld quality and performance:

• Three Stick welding modes: xx18, xx10 and Gouge

• Two wire modes: Solid and Flux-Cored

• Three TIG modes: Auto-Stop™, Auto-Crater™ and Pulse

• Pulsed TIG mode ideal for out-of-position welding thin metals where a lower amount of heat is desired

• Infinite arc control in Stick and solid wire modes for easier fine-tuning



About Miller

Miller Electric Mfg. Co., headquartered in Appleton, Wis., is a leading worldwide manufacturer of Miller brand arc welding products and is a wholly owned subsidiary of Illinois Tool Works Inc. (NYSE: ITW).



For more information, visit Miller's website at www.MillerWelds.com, call 1-800-4-A-Miller (800-426-4553), email info@millerwelds.com, fax 877-327-8132, or write to Miller Electric Mfg. Co., P.O. Box 100, Lithonia, GA 30058.

More from Fluid & Gas Flow Equipment