Engine Bearings minimize fuel consumption and CO2 emissions.
Press Release Summary: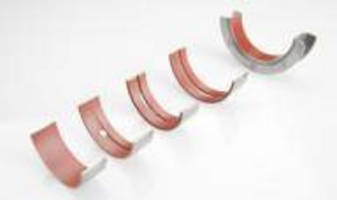 Featuring polymer coated bearing shell, IROX(TM) Bearings withstand mechanical loads produced by heavily boosted engines. Overlay addresses lubrication challenges associated with frequent engine re-starts by protecting crankshaft and bearing shells from damage where metal-to-metal contact would otherwise occur. PolyAmideImide polymer resin binder contains additives dispersed throughout matrix, which provide wear resistance, mechanical strength, and thermal conductivity.
---
Original Press Release:

Federal Mogul's Innovative IROX(TM) Bearing Shell Design Enables Fuel Economy and CO2 Reduction by Increasing Reliability of High-Output, Hybrid and Stop-Start Engines



New IROX(TM) coating increases bearing durability by more than five times

SOUTHFIELD, Mich., -- Federal-Mogul Corporation (NASDAQ:FDML) has expanded the performance capabilities of engine bearings by developing an innovative polymer coated bearing shell that can reduce fuel consumption and CO2 emissions by withstanding mechanical loads produced by heavily boosted engines. Called IROX(TM), the new technology addresses the lubrication challenges associated with frequent engine re-starts found in hybrid and other future stop-start engines by protecting both the crankshaft and the bearing shells from damage where metal-to-metal contact would otherwise occur. It is estimated that the IROX bearing overlay can help increase the life of crankshafts and bearing shells by more than five times in more extreme applications, such as direct-injected engines and engines with stop-start systems.

"The drive for increased engine efficiency is placing demands on crankshaft bearings that require new designs and materials applications," said Michel Prefot, Federal-Mogul's vice president, technology and innovation, bearings. "Satisfactory lubrication requires an adequate oil film between the bearing shell and the crankshaft to keep the surfaces apart. Efforts to reduce fuel consumption and CO2 output is pushing engine design towards reducing oil film thickness and significantly increasing the number of starts, which is where bearings are most vulnerable. Federal-Mogul's new IROX bearing overlay technology overcomes many of the most challenging wear-related issues that will be faced by a majority of new generation engines."

As engines are downsized but maintain their output through turbo-charging, the specific loads on the bearings increase. When hybrids operate in electric mode or when drivetrains using stop-start strategies switch off the engine, the crankshaft speed drops to zero. Without rotation, the crankshaft settles into contact with the bearing shells and the oil pump stops providing lubrication, allowing metal-to-metal contact and causing wear when the engine restarts.

The lubrication conditions at start up are very different from those that exist during high-speed, high-load operation. While solid lubricants or dry bearing materials are effective at preventing metal-to-metal contact at low running speeds, these conventional solutions are not suited to higher speeds, which require journal bearings with a generous lubricant supply. Federal-Mogul's new system combines the best features of both these established technologies by introducing a polymer coating for traditional metallic bearing shells, integrated with solid lubricants and wear inhibitors to produce a cost-effective, robust and production-ready solution. Extensive development has led to the identification and optimization of a number of key parameters, such as layer thicknesses, substrate material specification, resin binder properties, curing conditions and functional additive specifications, and a number of patents on the technology.

The IROX bearings have an overlay that is a PAI (PolyAmideImide) polymer resin binder containing a number of additives dispersed throughout the matrix. These additives provide a variety of properties to the finished coating, such as wear resistance, mechanical strength, thermal conductivity and embeddability (the ability to safely envelop loose abrasive particles).

Test results have shown a dramatic improvement in life compared to both conventional shell materials and state-of-the-art competitors. "Typical bearings with aluminium overlays show significant wear after 100,000 stop-start cycles," said Prefot. "However, the new generation of engine systems require 250,000 to 300,000 cycles, so the durability challenge has been raised. Bearings with the IROX overlay can meet the demands of repeated starting; in comparison tests where conventional aluminium overlays showed 100 microns of wear and lead-free bronze showed up to 50 microns, our shells still looked like new with a measurable wear of just a few microns."

Another advantage of the new Federal-Mogul bearings is improved conformability, which has the effect of increasing the bearing surface area and hence increasing the load capacity. This means specific loading can be increased through the use of boosting, and low viscosity oils can be used by vehicle manufacturers (to improve fuel economy) without increasing risk of engine seizure, both important benefits in the development of low emission engines.

Because of superior IROX bearing overlay durability, vehicle manufacturers also can now consider utilizing cost-effective nodular iron crankshafts, thus mitigating the need for an expensive, forged steel crank. This compatibility also eliminates the need for hardening of the pins and journals on the crankshafts. As vehicle manufacturers struggle to offset the cost burden of increasingly sophisticated engine systems such as turbocharging and direct injection, any reduction in base component specification is welcome.

IROX-overlay bearings are the latest addition to Federal-Mogul's comprehensive portfolio of lead-free bearings products. "The IROX bearing overlay is an excellent example of how we're continuing to strengthen our position as the world's leading engine and transmission bearings manufacturer," said Gerard Chochoy, senior vice president, Powertrain Sealing and Bearings. "We see excellent opportunities to displace conventional bearings in many automotive and other applications with the IROX overlay."

"We believe our IROX overlay is a game-changing technology," concluded Prefot. "Increasing fuel economy and reducing CO2 emissions, while meeting the durability challenge of start-stop and hybrid applications supports the trend of highly-loaded downsized engines while enabling the use of more cost-effective crankshaft materials." Pilot manufacture of the new shells has been underway since 2005, and full-scale production is scheduled for next year.

About Federal-Mogul

Federal-Mogul Corporation is a leading global supplier of powertrain and safety technologies, serving the world's foremost original equipment manufacturers of automotive, light commercial, heavy-duty, agricultural, marine, rail, off-road and industrial vehicles, as well as the worldwide aftermarket. The company's leading technology and innovation, lean manufacturing expertise, as well as marketing and distribution deliver world-class products, brands and services with quality excellence at a competitive cost. Federal-Mogul is focused on its sustainable global profitable growth strategy, creating value and satisfaction for its customers, shareholders and employees. Federal-Mogul was founded in Detroit in 1899. The company is headquartered in Southfield, Michigan, and employs nearly 39,000 people in 33 countries. Visit the company's Web site at www.federalmogul.com.

CONTACT: Jim Burke of Federal-Mogul Corporation, +1-248-354-4530

Web Site: www.federalmogul.com/

More from Communication Systems & Equipment