Enevo, and Husky Corporation Introduces Remote Tank Monitoring Feature with Ultrasonic sensors and five year battery life.
Press Release Summary: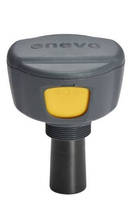 Providing digital solutions for remote tank monitoring with the help of 3G cellular technology in Ultrasonic sensors, installation comes with standard 1.5" and 2" NPT fittings, tha. monitor the tank's fill level and environment, and when sudden fluid level changes occur, information is transmitted. Web-browser enabled, system offers complete view of operations, fresh status updates, hourly measurements, reports and alerts online in real time.
---
Original Press Release:
Revolutionary Tank Monitoring Now Available for Diesel and Oil Applications
With strategic partner Enevo, Husky Corporation is entering the front line of digital solutions for remote tank monitoring by introducing the first systems built on 3G cellular technology for diesel and oil applications. The systems are ideal for petroleum product distributors with multiple locations requiring constant attention.

"The revolutionary solution from Enevo lifts the oil and fuel industry's delivery operations to a new level of efficiency and transparency," said Husky Corporation Executive Vice President Brad Baker. "This solution is built around the end-user, designed from the ground up to excel where traditional remote monitoring fails."

www.husky.com/enevo

Consumer-grade Simplicity; Enterprise-level Performance

Husky's Enevo solution starts at the tank, where robust sensors constantly monitor the tank's fill level and environment. Simple installation and a five-year battery life mean the fully integrated sensors can be installed and never worried about again. Information is transmitted at regular intervals or during abnormal events such as sudden fluid level changes.

Enevo combines the ease-of-use familiar in consumer products with the reliability of enterprise-grade solutions. System setup is a breeze and requires almost no training, which offers instant value for the end-user. Dispatchers use any web-browser enabled device to get a helicopter-view of operations; fresh status updates, trends, reports, and alerts make incredible delivery efficiencies a reality.

"This solution enables any distributor to take the lead. Dispatchers can now make informed decisions based on real information rather than conjecture, enabling them to do what they do best – get the right amount of product to the right place at the right time," said Joe Laschke, Husky Corporation Technical Service Representative. "Enevo enables just-in-time logistics for the oil and fuel segment."

Scandinavian Industrial Design, American Service and Support

From Nordic winters to the desert heat, Enevo sensors are extremely durable and designed for harsh environments. Furthermore, from contracts to product packaging, installation to setup, training to support, the entire solution has been designed around the end-user. Even the business model includes options that require no upfront investments.

Enevo is a global clean technology provider with headquarters in Finland and presence in the U.S., UK, Japan, Germany and Australia.

"Among the many values Enevo shares with Husky are safety, quality and customer loyalty. Enevo is proud to enter the U.S. market with a partner of such strong reputation," said Anders Brotherus, Product Manager at Enevo.

Remote Monitoring is Now Reliable and Affordable

 • Ultrasonic sensor technology means no contact to measured liquid

 • Easy and quick installation with standard 1.5" and 2" NPT fittings

 • Military-grade lithium batteries with five-year battery life

 • Hourly level measurements and trend-based, up-to-the-minute forecasts

 • Operations dashboard displays data on nearly any web-enabled device

Contact Husky Corporation for pricing information at 800-325-3558 or sales@husky.com

About Enevo and Husky Corporation

Enevo is a leading global provider of smart logistics optimization solutions for liquid level monitoring, helping companies operate more efficiently. Enevo is a strategic partner of Husky Corporation, a leading provider of fuel dispensing products and services. Founded in 1947 with headquarters and production facilities in the metro St. Louis area at Pacific, Missouri Husky Corporation also offers Husky® General Fueling Products (nozzles, swivels, Safe-T-Breaks®, hoses and related accessories for fuel delivery systems), BJE Oil and Lube products, Benecor DEF Dispensing and Storage systems and Roman Seliger Liquid Loading Arms.

SOURCE Husky Corporation

CONTACT:

Sheldon Ripson,
636-751-5733
More from Electronic Components & Devices