Energy Transfer Pipe handles hot or chilled water.
Press Release Summary: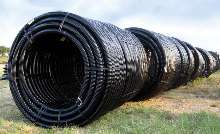 INSULPEX® consists of pre-insulated, flexible RAUPEX® pipe with smooth interior that eliminates corrosion. INSULPEX is produced with bonded layer of CFC-free polyurethane foam insulation that minimizes heat loss and water permeability. Outer casing of seamless, co-extruded polyethylene is black for UV resistance. Using cross-linked polyethylene, Non-Barrier Pipe and O
2
Barrier Pipe range in size from 1-2 in. EVERLOC® compression-sleeve fittings allow immediate pressure testing.
---
Original Press Release:

REHAU Updates INSULPEX® Energy Transfer Piping System


(Leesburg, Va., October 14, 2004) - REHAU has updated its INSULPEX® energy transfer pipe to include 16 new ASTM-compliant inch sizes that meet North American standards. In addition, more than 50 new EVERLOC® fittings complete the updated program.

Engineered for the efficient transfer of hot or chilled water, INSULPEX consists of pre-insulated RAUPEX® pipe for a flexible, lighter alternative to rigid piping systems. The smooth interior wall of RAUPEX carrier pipe provides superior flow while eliminating corrosion-a problem that plagues many metal pipelines. INSULPEX is ideally suited for buried applications, and can also be used within buildings.

Available in one- and two-pipe configurations, INSULPEX pipe is produced with a bonded layer of CFC-free polyurethane foam insulation that minimizes heat loss and water permeability, yet is still flexible. The outer casing of seamless, co-extruded polyethylene is now black for increased UV resistance. No on-site insulation is necessary.

According to Lance MacNevin, business team manager for REHAU's heating group, "INSULPEX is highly resistant to abrasion and dents due to the solid nature of its outer casing, which is free of air gaps and holes. Waterproof and resistant to chemicals, the flexible casing's corrugated profile locks the pipe in place, when properly buried, to eliminate thermal expansion and contraction."

INSULPEX O2 Barrier Pipe uses REHAU's proven RAUPEX O2 Barrier cross-linked polyethylene (PEXa) carrier pipe. It is ideal for energy transfer applications such as district and geothermal heating, snow and ice melting, chilled water, and process and hydronic piping. ASTM carrier pipe sizes range from 1" to 2", and metric sizes include 63 mm to 110 mm pipes, all with an oxygen diffusion barrier exceeding the performance requirements of DIN 4726.

INSULPEX® Non-Barrier Pipe uses REHAU's proven RAUPEX Non-Barrier cross-linked polyethylene (PEXa) carrier pipe in sizes 1", 1 1/4", 1 1/2" and 2". It is certified to NSF Std. 61 for potable water applications.

Connections are made without the use of heat or chemicals through REHAU's EVERLOC® compression-sleeve fitting system, which provides reliable joints that allow for immediate pressure testing. EVERLOC fittings are safe to bury, with no need to retighten. Therefore, access chambers are not required when using EVERLOC fittings.

INSULPEX is much lighter than copper or steel piping systems and is available in continuous coils of various lengths up to more than 1,000 feet. This reduces the need for joints in the pipeline and greatly decreases installation costs and time. REHAU also offers custom-cut coil lengths to help reduce product waste.

For additional information on REHAU's INSULPEX Energy Transfer Pipe, contact: REHAU Incorporated, P.O. Box 1706, Leesburg, VA 20177. Phone: 1.800.247.9445. Fax: 1.800.627.3428. Web site: www.REHAU-NA.com. A technical manual, installation guide and product catalog-as well as a suggested specification-can be downloaded from the Resource Center on REHAU's Web site. An INSULPEX training program is also available.

REHAU, a global polymer processing company with more than 50 years of experience, offers innovative design solutions and customer service programs. With a commitment to continuous product development and uncompromising quality, REHAU has emerged as a leading system supplier to automotive, industry and construction. An independent, privately held company, REHAU has the expertise and versatility to cater to a diverse customer base-from small businesses to major corporations.

Related