Energy-Saving Rotary Blowers suit water/wastewater treatment.
Press Release Summary: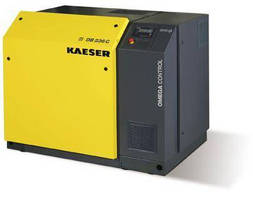 Models DB 166 C and DB 236 C rotary blowers cover air deliveries from 10-25 m³/min for pressures up to 1,000 mbar, or 500 mbar in vacuum. They include EU-EFF1-rated drive motor, Omega Profile rotors with block casting to ensure low energy consumption, and Omega Control Basic that matches blower performance to meet demand. Cooling system enables blower intake air and motor cooling air to be drawn in separately from ambient surroundings, while drive motors ranging from 7.5-45 kW are available.
---
Original Press Release:

DB 166 C/DB 236 C: The Latest Rotary Blowers for Water and Wastewater Treatment



Intelligent Efficiency

With the motto "Intelligence inside", Kaeser Kompressoren recently unveiled its new generation of high efficiency rotary blowers. The new models, the "DB 166 C" and the "DB 236 C", not only provide significant energy savings, but also help to reduce overall costs.

In view of continuously soaring prices for industrial energy in recent years, the issue of how to save energy has become a key focus for discussion. An important factor to consider therefore is that the efficiency of a machine, or system, is dictated by its total service life costs rather than just by how much energy it consumes. It was with this knowledge in mind that Kaeser set about developing its latest generation of rotary blowers. The resulting "DB 166 C" and "DB 236 C" models are consequently based on inherently intelligent design. System operators not only benefit from the significant energy and operational cost savings that these innovative rotary blower systems have to offer, but are also able to take advantage of considerable savings for installation, planning, commissioning and certification. Covering air deliveries from 10 to 25 m³/min for pressures up to 1000 mbar (g), or 500 mbar (vacuum), the new "DB" blowers also provide exceptional reliability and availability. As with all other "Compact" series blowers, these news models are fitted with an energy-saving 'EU-eff1' rated drive motor as standard and feature Omega Profile rotors with a specially designed block casing to ensure low energy consumption and outstanding performance.

New however, is integration of the "Omega Control Basic" which shares its technology with Kaeser's powerful compressor control systems. This advanced controller is able to precisely match blower performance to meet demand, is exceptionally user-friendly, monitors all operational parameters and uses a detection system to alert users to maintenance and alarm messages. A master control system can also be easily connected if needed. Performance and dependability are further enhanced by Kaeser's advanced cooling system, as the blower intake air and motor cooling air are drawn in separately from the ambient surroundings.

The modular design concept of the "DB 166 C" and "DB 236 C" is also new: The blowers are delivered ready for operation including all sensors, star-delta starter and / or frequency converter (for flexible speed control). They can also be supplied without switchgear / sensors as required. The complete system packages are CE and EMC certified, which means less work for both the operator and system provider when it comes to planning, installation, certification, documentation and commissioning. Furthermore, drive motors ranging in power from 7.5 to 45 kW can be installed according to requirement. The 'Compact' series name is particularly well suited to these new systems especially as they require even less space than their predecessors.

Last, but not least, highly effective sound and pulsation damping features ensure quiet operation, whilst safety guards for the fan and belt drive provide operator protection in accordance with all applicable machine regulations.

Intelligent design: With air deliveries from 10 to 25 m³/min for pressures up to 1000 mbar (g), or 500 mbar (vacuum), Kaeser's new "DB 166 C" and "DB 236 C" rotary blowers ensure exceptional all-round efficiency.

More from Electrical Equipment & Systems