Energy-Measurement SOC targets AC/DC power supplies.
Press Release Summary: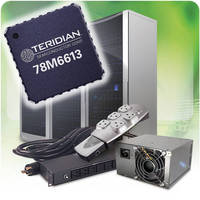 Model 78M6613 enables capture and reporting of real-time energy data, which allows datacenter managers to manage and control energy usage. Accurate to ±0.5% over 2,000:1 dynamic range, it includes tools for self-calibration as well as AC load monitoring. Unit integrates range of AC power diagnostics, including power, power factor, voltage current, voltage sag, and dip. Single-phase, self-contained IC has 32-pin QFN package with on-chip Flash and MCU for storage of calibration coefficients.
---
Original Press Release:

Complete Energy Measurement SoC Provides More Management and Control of AC/DC Power Supplies in Servers and Data Communication Equipment



SUNNYVALE, CA - Maxim Integrated Products (NASDAQ: MXIM) announces the launch of a new Teridian/Maxim energy-measurement system on chip (SoC), the 78M6613. The 78M6613 is the industry's first SoC energy-measurement solution for AC/DC power supplies that brings a higher level of management and control to servers and other equipment in data centers.

The new Teridian/Maxim chip comes as Environmental Protection Agency (EPA)/ENERGY STAR® mandates toward greater efficiency and accurate energy measurement in data centers begin to bear down on enterprises around the globe. The 78M6613 enables the capture and reporting of real-time energy data, which provides data center managers with the ability to quantify where energy is needed, being used, and more importantly, being stranded. Visibility into this critical data is an absolute requirement in order to manage and control energy usage in power-starved data centers that cannot keep up with growing demands placed upon them.

"Power capping, load shedding and virtualization are all driving the need for real-time energy measurement and resource management in data centers," said Jay Cormier, Maxim Integrated Products Director, Teridian/Maxim Business Management, Energy Measurement & Communications. "New technology and greater demands on data centers and enterprise networks are all making it even more important to understand where energy is going."

With an embedded analog front-end and compute engine, small footprint, and embedded firmware, the 78M6613 is specifically optimized to address the unique challenges of precision energy measurement inside AC/DC power supplies. As with all Teridian/Maxim brand energy-measurement SoCs, the 78M6613 features best-in-class accuracy of ±0.5% over a 2000:1 dynamic range, but also provides powerful tools for self-calibration to help facilitate rapid design time and optimal manufacturing costs.

The 78M6613 is a highly integrated, single-phase, fully self-contained AC power-measurement and monitoring SoC integrated circuit with embedded AC load monitoring and control firmware. The small 32-pin QFN package is ideally suited for real-estate-limited designs such as power supplies, where power density and space are a premium. The 78M6613 features the full range of AC power diagnostics, including power, power factor, voltage current, voltage sag and dip. On-chip flash and a microcontroller (MCU) enable the storage of calibration coefficients and eliminate the need for external components.

Initially targeted at server power supplies, the 78M6613 is also suited to energy-measurement needs in data communications and storage equipment. The flexibility of the platform also makes real-time energy measurement a reality for home appliances, home automation networks and building automation.

The 78M6613 is available in a 32-pin QFN package. Production quantities are available now and the SoC is priced at $2.65 (1000 up, FOB USA). 78M6613 evaluation kits are also available. For more information on the 78M6613 product line and other Teridian/Maxim SoCs, please visit www.maxim-ic.com/Teridian.

Maxim acquired the privately held Teridian Semiconductor Corp. in May 2010. Teridian is a fabless mixed-signal semiconductor company focused on electricity metering and energy measurement for the smart grid.

About Maxim

Maxim Integrated Products is a publicly traded company that designs, manufactures, and sells high-performance semiconductor products. The Company was founded over 25 years ago with the mission to deliver innovative analog and mixed-signal engineering solutions that add value to its customers' products. To date, it has developed over 6500 products serving the industrial, communications, consumer, and computing markets.

Maxim reported revenue of approximately $2.0 billion for fiscal 2010. A Fortune 1000 company, Maxim is included in the Nasdaq 100, the Russell 1000, and the MSCI USA indices. For more information, go to www.maxim-ic.com.

ENERGY STAR is a registered service mark of the Environmental Protection Agency.

Teridian Semiconductor Corp. (formerly a Teridian Semiconductor trademark) is a registered trademark of Maxim Integrated Products, Inc.

DATA SHEET: A Data Sheet for this product is available on the web.
http://www.maxim-ic.com/78M6613

More from Software