Energy Efficient Luminaire is suited for public lighting.
Press Release Summary: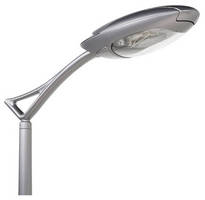 Using Philips® CosmoPolis HID lamp and ballast system, FURYO is designed for energy efficient roadway and architectural lighting. Compact miniR® and multilayer High Reflect HiR® reflectors promote optimal performance, while design separates control gear from lamp compartment to ensure extended life. Suited for public lighting, luminaire features IP66-rated Sealsafe® optical unit; separate IP66 compartment, thermally optimized for electronic ballast; and self-cleaning, flat or sag lens.
---
Original Press Release:

Schréder's New FURYO Delivers the Right Light with Innovative Philips® CosmoPolis Lamp/Ballast System



Elk Grove Village, Illinois---Using Philips® CosmoPolis lamp and ballast system, Schréder Lighting USA launches the FURYO, a luminaire designed for energy efficient roadway and architectural lighting applications. This innovation reflects Schreder's approach to deliver "The Right Light" by offering high-performance, technological solutions that make this HID light source a valid alternative to traditional sources.

The FURYO, equipped with Philips' ground-breaking CosmoPolis HID system, is well suited for public lighting and specifically developed for the arc tubes of new-age CosmoPolis lamp and ballast system by Philips®. The FURYO offers an innovative solution for "The Right Light":


State of the art optical system designed around Philips® CosmoPolis system

Multi-Layer HIR® reflector for increased performance

IP66 rated Sealsafe® optical unit with easy access

Self Cleaning Lens

Flat or Sag lens

Separate IP66 compartment thermally optimized for electronic ballast

Designed by Michel Tortel, FURYO is engineered with Sealsafe® IP66, a hermetically sealed optical unit that prevents dust and water ingress to the IP66 tightness standard while ensuring lifetime protection. Sealsafe enhances FURYO's performance while eliminating internal cleaning of the reflector. The double gasket guarantees the long-term cleanliness of the optical compartment.

FURYO is fitted with Philips® CosmoPolis, metal halide lamps. The lamps offer a compact size, gains in efficiency and lifespan, better color rendition and precision positioning of the light source. With compact miniR® and multi-layer High Reflect HiR® reflectors specifically developed for the arc tubes of the lamps, the FURYO offers an innovative solution for "The Right Light" using less energy and fewer materials.

The body of the FURYO is constructed with a self-cleaning protector made from tempered glass and sealed to the body of the luminaire and the optical compartment. FURYO uses multi-layer reflectors for public lighting, which increases luminance by 20 percent, compared to current anodized reflectors on the market.

FURYO is offered in a compact size with thermal compartmentalization for electronic ballasts. The design separates the control gear from the lamp compartment, ensuring a long life and better performance for its electronic ballast.

The luminaires can be maintained safely and quickly by easily accessing the lamp from the front without tools, reducing maintenance time to a minimum.

FURYO integrates easily into all public spaces and road environments using Schréder's broad range of columns and brackets.

Schréder Lighting USA, a respected member of the Schréder Group G.I.E.

Located in Elk Grove Village, Illinois, Schréder Lighting USA opened its new, state-of-the-art manufacturing plant in Addison, Illinois this year. Schréder Group G.I.E. was founded in Belgium in 1907, and has become an international organization with over 2,600 employees, in more than 40 facilities, in 30 countries and on five continents. Schréder Group G.I.E specializes in upscale, architectural and high performing outdoor lighting that is at the forefront of technological and aesthetic innovation. The members and affiliated companies of the Schréder Group share facilities and powerful, state-of-the-art tools for R&D, manufacturing, high-level photometric studies, and laboratory testing. Findings are shared within the group for the purpose of providing best options for the "the right light" worldwide.

For more information, contact: Schréder Lighting LLC, 985 Busse Road, Elk Grove Village, IL 60007 Tel: 847.621.5100 Fax: 847.621.5121

Visit Schréder Lighting USA New Website: www.Schreder.US

More from Optics & Photonics