Endpoint Monitor resolves wireless USB security issues.
Press Release Summary: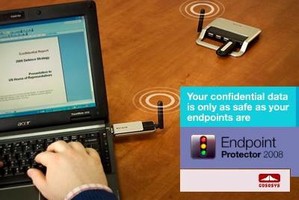 Endpoint Protector 2008 protects PC's from data loss, theft, and leakage. Solution allows controlled use of USB devices, external hard drives, and media writers with goal of stopping malware, viruses, and other unwanted data intrusions. File tracing option monitors and records all data transferred to and from portable storage devices, giving IT administrators facility to trace data activity regarding removable storage and endpoint devices.
---
Original Press Release:

Endpoint Protector 2008



World's First Endpoint Security and DLP Solution Addressing Wireless USB Security Issues

New CoSoSys solution provides efficient Data Loss Prevention (DLP), addressing data theft and other forms of data leakage. With increased security and file tracing capabilities all data transfers in connection with portable devices are monitored and controlled

Bucharest/San Jose, February 12th, 2008 - Companies are facing new IT security challenges arising from the introduction of the Wireless USB standard for data transfer that comes without both the requirements and limitations of traditional wired USB connectivity.

Wireless USB connectivity on new notebooks, desktops and other portable devices increases the risk of data leakage through uncontrolled Wireless USB data transfers. Within seconds data can be transferred and stolen if efficient security measures are not in place to protect against such threats.

The new Endpoint Protector 2008 efficiently protects PCs from data loss, data theft and other forms of data leakage. Endpoint Protector allows the controlled use of USB devices, external hard drives, FireWire devices, CD/DVD-Readers/Writers and many other potentially harmful devices, with the goal of stopping malware, viruses and other unwanted data intrusions.

Endpoint Protector 2008 also monitors and records all data transferred to and from portable storage devices. This new feature gives IT administrators the possibility to trace all data activity regarding removable storage and endpoint devices. This file tracing option allows the prevention of possible data breaches or of data being copied without authorization.

In case of data deletion before or after transferring it to and from portable devices a copy of the data is stored onto a network storage server. The information stream at the network's endpoints is thoroughly recorded, thus supporting audits of data flow and controlling the impact of data leakage. Furthermore, this set of features enables companies to better comply with government regulations, as well as with standards currently being discussed and pending implementation in what security responsibility, data breach management and IT governance is concerned.

The improved administrative and reporting tool with the completely redesigned dashboard is giving a starting point to provide timely and accurate reports and analysis, meeting the reporting needs of both management and IT security staff.

Endpoint Protector 2008 also introduces the TrustedDevice concept, giving IT Security Officers the additional possibility of enforced encryption of data that is put in transit on previously authorized portable storage devices. In the event that a device is lost or stolen, this enforcement makes sure all data stored on it is encrypted and therefore not accessible to other parties.

Endpoint Protector 2008 will effectively secure all PCs running Windows Vista, Windows XP and Windows 2000. The new version of Endpoint Protector Server 2008 is available for Windows 2003 Server with IIS and Microsoft SQL 2005 as database. Alternatively, the new Endpoint Protector Server can be installed on a Linux Debian platform with Apache web server and MySQL as database. The objective of supporting both server platforms is to provide a fast and seamless integration into an existing network infrastructure of SMBs or enterprises.

About CoSoSys

CoSoSys SRL specializes in network endpoint security and software development for portable storage device enhancement. The application portfolio includes functions from encryption, biometric security, data synchronization and network security. CoSoSys distributes its products globally through world's leading hardware manufacturers, software Distributors, Resellers and directly to users at www.cososys.com. CoSoSys enjoys a continuously growing installation base of users worldwide. The company is headquartered in Cluj-Napoca, Romania and has sales representatives in the United States, Germany and Asia.

Contact Name: Edina Szasz
E-mail: edina.szasz@cososys.com

More from Architectural & Civil Engineering Products