End Of Arm Tooling meets packing and palletizing needs.
Press Release Summary: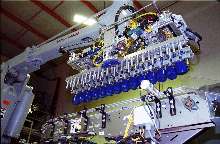 End Of Arm Tooling combined with robotics provides integrated solutions for automation and handling processes of robotic case packing, palletizing, and depalletizing. Systems use modular mechanical gripper tools, vacuum tools, or combination of both. They can pick up empty pallets and slip/tier sheets from automatic dispensers or static magazines. EOAT will automatically place pallet, slip, or tier onto load stations, eliminating need for pallet conveyors.
---
Original Press Release:

End of Arm Tooling (EOAT) for Robotics


BREWERTON, NY (JULY, 2003) - Schneider Packaging Equipment Co., Inc., specializing in end-of-line solutions for case packing and palletizing needs, now brings the best of integrated, End-Of-Arm Tooling (EOAT) to packaging. EOAT technology involves the end of a robotic arm. Schneider combines end of arm tooling with robotics to provide complete, integrated, solutions for the automation and handling processes of robotic case packing, palletizing and depalletizing.

Over thirty years of engineering expertise in handling products has lead to Schneider's ability to design EOAT with a deep understanding of product personality and characteristics. The enhanced movement of Schneider's tooling is flexible enough to handle various size objects such as boxes, bags, bundles, bales, cans, bottles and jars. Schneider builds its equipment to last and expressly guarantees the durability and quality of their equipment.

Schneider begins each EOAT application by engineering modular mechanical gripper tools, vacuum tools or a combination of both, for a customized application on any new or existing robotic system. "The advantage of using modular parts in a customized configuration is the reduction of risk and overall system costs, as well as quick delivery time," says Izzat Hammad, Schneider Engineering.

Schneider EOAT can also be designed to pick up empty pallets and slip/tier sheets from Schneider's automatic dispensers or static magazines. The EOAT will automatically place the pallet, slip or tier onto load stations, eliminating the need for pallet conveyors and reducing system costs and footprint requirements.

Schneider will work with your company to provide the best solution for any packaging/palletizing need. For more information about Schneider's complete line of Robotic Systems, please contact our Sales Department by phone at 315-676-3035 or fax at 315-676-2875, or visit us on the web at www.schneiderequip.com.

Schneider Packaging Equipment Company
P.O. Box 890, 5370 Guy Young Rd., Brewerton, NY 13029

More from Communication Systems & Equipment