End Mills machine various components without tool change.
Press Release Summary: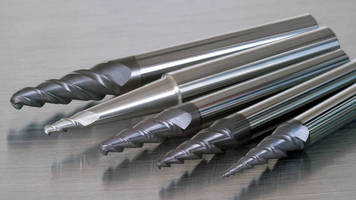 Application-specific Conical Ball Nose End Mills enable impellers, blisks, turbine blades, and tire profiles to be machined without tool changes during 3- and 5-axis operations. Available in range of sizes, tools include uncoated designs able to mill aluminum and steels such as nickel-chrome and Inconel. TiALN-coated tools can machine steel materials up to Rc 45 in addition to cast/nonferrous metals. Mills are offered in 2 standard forms, 1 with shorter flutes for maximized rigidity.
---
Original Press Release:

New Emuge Application-Specific Conical Ball Nose End Mills Significantly Increase Productivity, Efficiency.



With Emuge Conical Ball Nose End Mills, Impellers, Blisks, Turbine Blades and Tire Profiles Can Be Machined Completely Without Tool Changes.

WEST BOYLSTON, MA U.S.A. (December 9, 2008) - Today, Emuge Corp. announced the introduction of Conical Ball Nose End Mills that are uniquely designed for the machining of specific components in several key manufacturing segments including automotive, aerospace, energy and HVAC. The end mills are conical in shape, with a highly accurate ball nose capable of completely machining impellers, blisks, turbine blades and tire profiles without a single tool change during 3-axes and 5-axes operations.

"We can now offer customers manufacturing these specific components with a milling tool solution that will eliminate tool changes and increase productivity," said Mr. Stephen Jean, Milling Products Manager at Emuge Corp. "For example, when machining an impeller, one Conical Ball Nose End Mill can rough and finish the individual blades as well as the flow surfaces at the impeller hub." Also, Jean reported that when machining tire profiles, it is possible to finish the entire mold segment including the interlock bevel and the tire tread features including all radius detail with a single tool.

Offering an application-specific solution, these tools are available in a wide range of sizes. Uncoated designs are able to mill aluminum and specialty steels including nickel-chrome steels and Inconel. End mills with a TiALN coating can machine steel materials at up to 45 Rc as well as cast and non-ferrous metals.

These Emuge Conical Ball Nose End Mills are available in two standard forms, one with shorter flute lengths for increased rigidity. In addition, special tools made to customer specifications are offered.

Emuge's Conical Ball Nose End Mills join a comprehensive line of solid carbide tools that are precision-manufactured for optimum performance, durability and tool life. The new end mill line reflects the expertise and manufacturing techniques developed over 90 years of application, research and continuous product enhancement.

Emuge Corp. is a subsidiary of the 1,000+ employee German company Emuge-Werk Richard Glimpel KG that has been the product technology and performance leader in their field for over 90 years. The company manufactures an extensive line of taps, end mills, thread mills, holders and attachments, over 100,000 items sold through distributors worldwide. Emuge also offers end-user technical support through a network of in-the-field engineers with extensive tooling experience.

Over 10,000 types of cutting tools and accessories are stocked in the company's new North American Headquarters located in W. Boylston, MA USA. The 21,000 square foot state-of-the-art facility, custom-designed and built in 2005, also serves as a technology center. Milling, thread cutting, and workholding seminars will also be conducted at the technology center. For more seminar information, visit www.emuge.com.

For more information on the entire line of Emuge End Mills, contact Emuge at 1800 Century Drive, West Boylston, MA 01583-2121, Tel. 800-323-3013, internet; www.emuge.com.

More from Non-Industrial Products