End Mills are designed for dental machining applications.
Press Release Summary: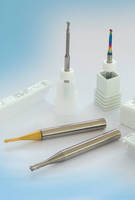 Solid carbide ball nose end mills, suited for roughing/finishing, are available in cutting diameters from 0.4-6 mm. Suitable for roughing in cobalt chrome, torus end mills have cutting diameters of 3 and 4 mm and come with 2 or 4 flutes. Featuring carbide construction, both tool types have radius tolerance of up to ±.005 mm and diameter tolerance of .01 mm. They can include TiAlN, CrN, or diamond coatings and can be used with benchtop systems and 5-axis machining centers.
---
Original Press Release:

Emuge Introduces New Line of End Mills Designed for Dental Machining Applications.



WEST BOYLSTON, MA U.S.A. - Today, Emuge Corp. announced the introduction of a new line of end mills developed for the advancing field of dental prosthetics manufacturing. The milling tools feature carbide construction, cutting geometries and coatings that have been engineered specifically for use with today's dental materials.

The new Emuge tool line consists of solid carbide ball nose and torus end mills which are designed for optimum machining of zirconium oxide, Polymethyl Methacrylate (PMMA), wax, cobalt chrome, and titanium - the most commonly used materials in making dental prosthetics. Both types of cutters have a radius tolerance of up to ±.005 mm and a diameter tolerance of .01 mm. Ball nose cutters are available in cutting diameters ranging from 0.4 to 6mm. Torus end mills are available in cutting diameters of 3 and 4mm.

Solid carbide ball nose end mills are ideal for roughing and finishing, and their optimized geometry provides greater stability in long reach applications. The tapered neck ball nose end mills provide greater rigidity against deflection and are optimal for finishing and rest material machining. Torus end mills are available with two or four flutes, offering exceptional performance for roughing in cobalt chrome.

Emuge dental end mills are available with a variety of coatings including TiAlN which protects the tool from premature wear when machining non-precious metal alloys, CrN which prevents the material from sticking to the cutting edge of the tool when milling PMMA and wax, and a diamond coating which ensures extremely long tool life when machining zirconium oxide.

"As an industry leader, Emuge is committed to being at the forefront of new technology for emerging manufacturing opportunities," states Mr. Stephen Jean, Milling Products Manager at Emuge Corp. "Our new end mill line is a perfect example of how we examined the market for dental prosthetics manufacturing and developed an application-specific tool line designed for cutting dental materials."

The new dental line is suitable for a variety of machine tools used for dental prosthetics manufacturing, from bench top systems to 5-axis machining centers. The tools are compatible with all software systems used in the dental prosthetics field including hyperDENT® CAM software from Emuge's technical partner - OPEN MIND Technologies USA, Inc.

Emuge Corp. is a subsidiary of the 1,000+ employee German company Emuge-Werk Richard Glimpel KG that has been the product technology and performance leader in their field for over 90 years. The company manufactures an extensive line of taps, end mills, thread mills, holders and attachments, over 100,000 items sold through distributors worldwide. Emuge also offers end-user technical support through a network of in-the-field engineers with extensive tooling experience.

Over 10,000 types of cutting tools and accessories are stocked in the company's new North American Headquarters located in W. Boylston, MA USA. The 21,000 square foot state-of-the-art facility, custom-designed and built in 2005, also serves as a technology center. For more information on the entire line of Emuge End Mills, contact Emuge at 1800 Century Drive, West Boylston, MA 01583-2121, Tel. 800-323-3013, internet; www.emuge.com.

More from Optics & Photonics