Encoders offer hollow hub for ease of installation.
Press Release Summary: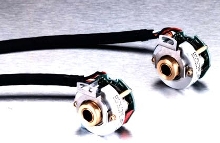 Two models of incremental encoders with commutating abilities feature resolutions of 6000 lines/revolution, satisfying moderate to high-end accuracy requirements. They are available in 35 and 45 mm dia sizes, and are assembled with integral PC board. Models offer 2-channel quadrature output; index, which allows count resolution to 24,000 counts per revolution; and TTL compatible line driver output.
---
Original Press Release:
New Incremental/Commutating Optical Encoders Introduced By Thomson Micron

Ronkonkoma, NY - Thomson Micron* -- a leader in integrated feedback solutions -- announces a new line of high performance, low-cost incremental encoders that have the ability for commutating. The two new models, which feature high resolution and low inertia, satisfy moderate to high-end accuracy requirements. When compared to competitive encoders, the new Thomson Micron encoders offer users lower current consumption, which translates into lower operating costs.

The incremental/commutating encoders are available in size 35 and 45mm diameters. They are assembled with an integral PC board, which generates simulated Hall effect signals to initiate winding recognition for permanent magnet AC or DC servo motors.

Other features include:

* Resolutions up to 6000 lines per revolution
* 2 channel quadrature output plus an index (which allows count resolution to increase to 24,000 counts per revolution and minimizes the homing sequence).
* TTL compatible line driver output (which boosts signal strength and increases immunity to noise over long cable lengths).

The new Micron components enable quick installation through an optimized mounting arrangement. Hollow hub outputs offer flexible slotted mounts and eliminate the need for a coupling. All encoders come standard with a cable and connector.

Thomson Micron optical encoders are ideal for applications such as pick-and-place robots, inspection equipment, indexing/positioning devices, coiling/winding operations, paper conversion equipment, and gantry or elevator axes.

Pricing ranges from: $169 to $442 (1-9 pcs) and $105 to $274 (100-249 pcs).
More from Textile Industry Products