Encoder Module is suitable for brushless DC Motors.
Press Release Summary: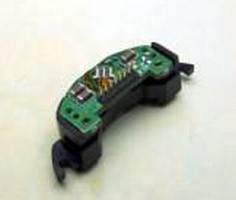 Designed to reduce overall motor sizes, Model AEDT-9340 provides advanced motion control detection in robotic devices and machine tools. High temperature, 6 channel encoder module includes lensed LED source and detector IC enclosed in small plastic package. Optical incremental encoder is TTL compatible and RoHS compliant. It has integrated commutation output channels U, V, and W as well as 2 channel quadrature outputs A and B and third channel index output.
---
Original Press Release:

Avago Technologies Announces New High Temperature C-Shaped Encoder Module for Brushless DC Motors Used in Industrial Apps



Low-Cost Six-Channel Encoder Module Provides Advanced Motion Control Detection and Easy Integration into Industrial Motors

SAN JOSE, Calif., April 29, 2008 Avago Technologies today announced the addition of a new compact high temperature six-channel optical incremental C-shaped encoder module for Brushless DC motors used in industrial and factory automation equipment. Avago's miniature AEDT-9340 encoder module is priced competitively and designed to enable the reduction in overall motor sizes. This latest addition to Avago's family of easy to install optical encoders, which is designed to fit easily in round encoder housings, provides motor manufacturers with advanced motion control detection. Avago is a leading supplier of analog interface components for communications, industrial and consumer applications.

Avago's AEDT-9340 encoder module includes a lensed LED source and a detector IC enclosed in a small plastic package to offer better switching accuracy (mechanical commutation) than conventional Hall sensors. When used with a codewheel, this low-cost module detects rotary position. Moreover, due to a highly collimated light source and a unique photodetector array, this module is extremely tolerant to mounting misalignment. Typical industrial automation applications where the AEDT-9340 encoder can be used include robotic devices, textile machines, machine tools, and food and packaging machines.

The demand for improved motor control by housed encoder and motor manufacturers is driving the trend towards wide scale use of optical encoders with integrated commutation output over Hall devices in BLDC motor applications. A growing number of designers are choosing optical encoders for their motor designs because they are less expensive. Moreover, the integrated commutation channel output (U, V and W) in the AEDT-9340 is just as reliable as Hall sensors. Usage of Hall sensors adds to motor length, design complexity and assembly costs.
Avago's six-channel AEDT-9340 optical incremental encoder has integrated commutation output channels (U, V, W), two channel quadrature outputs (A, B) and a third channel index output (I). This ungated index output is a positive index pulse that is generated once for each rotation of the codewheel.

Features

o Designed to fit in circular shaped housings

o Easy to install

o Two channel quadrature rotary output (A,B) with ungated index pulse (I)for position feedback

o Three channel integrated commutation output (U, V, W)

o Up to 2,500 CPR

o Up to 200 kHz frequency res>ponse

o TTL compatible

o Single 5V supply

o Operating temperature: -40 to 115 degrees C

o Integrated feedback device for Brushless DC motors

o RoHS compliant


U.S. Pricing and Availability:
Avago's AEDT-9340 optical encoder module is priced at $21.50 in 1,000 unit quantities and available now in sample and production quantities. The AEDT-9340 is available through Avago's direct sales channel and worldwide distribution partners. More information is available at www.avagotech.com/motioncontrol.

About Avago Motion Control Solutions:

Avago Technologies is the industry-leading supplier of motion control encoders. These products meet the stringent requirements of precise positioning and velocity sensing in a wide range of applications from printers, copiers and scanners to servo and stepper motors, and robotic arms and wafer-handling machines. Avago offers "one-stop shopping" with its extensive portfolio of optical encoders, decoders and controllers. The company offers the industry's smallest form factors, widest range of resolutions, and highest level of integration to reduce the number of components needed and shorten time-to-market. Avago's rich motion control heritage dates back to the 1980s and its Hewlett-Packard roots. More information is available atwww.avagotech.com/motioncontrol.

About Avago Technologies:

Avago Technologies is a leading supplier of analog interface components for communications, industrial and consumer applications. By leveraging its core competencies in III-V compound and silicon semiconductor design and processing, the company produces highly efficient, high-quality products. With a global employee presence, Avago provides an extensive range of analog, mixed-signal and optoelectronic components and subsystems to more than 40,000 customers. Backed by strong customer service support, the company's products serve four diverse end markets: industrial and automotive, wired infrastructure, wireless communications, and computer peripherals. Avago's heritage of technical innovation dates back 40 years to its Hewlett-Packard roots. Information about Avago is available on the Web at www.avagotech.com.

Avago, Avago Technologies, and the A logo are trademarks of Avago Technologies. All other trademarks are the property of their respective owners.

Press Contact

Alain Dangerfield

alain.dangerfield@avagotech.com

Telephone: +1 408 435 6385


More from Communication Systems & Equipment