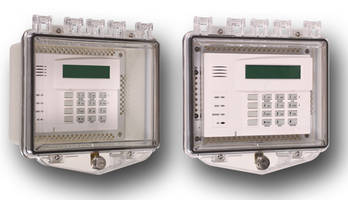 October 5, 2017 – STI's Heated Polycarbonate Enclosures maintain a temperature above freezing allowing a wide range of sensitive units to be installed outdoors, in freezers, unheated warehouses or storage units.
The enclosures are engineered with a radiant heat plate which prevents LCD displays from becoming sluggish or freezing. Designed to operate on 12, 16.5 or 24 volts, the cover includes three thermostats; a control thermostat, over temperature safety thermostat and a low temperature warning (which can connect to a supervisory panel).
For convenience, two styles are available; one with an exterior key lock and the second with a thumb lock. Both models are available with either an enclosed deep back box or an enclosed shallow back box. Additional sizes and back boxes are available either with or without heat.
For more information on the STI Heated Polycarbonate Enclosures (STI-7510-HTR or STI-7511-HTR), call 800-888-4784, fax 248-673-1246, email [email protected] or visit www.sti-usa.com. STI's address is: 2306 Airport Road, Waterford, MI 48327-1209.