Enclosure Cooling Units offer multiple mounting options.
Press Release Summary: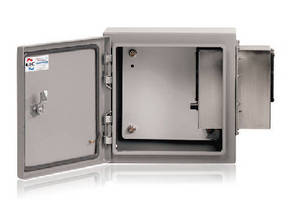 With different mounting options, Thermoelectric Air Conditioners for electronic enclosures help users meet varying installation space requirements. Standard through-mount option assures optimum airflow which promotes efficient cooling of cabinet contents. If there is no room in enclosure interior, extension frame mount is available which creates alcove in cabinet panel. Conversely, recessed frame mount places cooling unit entirely within cabinet so that all external enclosure surfaces are flat.
---
Original Press Release:

Multiple Mounting Options for Cooling Units in Electronic Enclosures Accommodate Wider Range of Installation Requirements



Warminster, PA, -- EIC Solutions, Inc., a leading manufacturer of thermoelectric air conditioners, electronic enclosures and transit cases, now offers multiple mounting options for its thermoelectric air conditioners. Different mounting options make it easier for designers and end users to meet varying installation space requirements. 



The standard through-mount option assures optimum airflow which promotes efficient cooling of cabinet contents. "In this mounting mode," said Dave Bates, EIC Operations Manager, "the cold side of the air conditioner protrudes into the enclosure about 3.5 inches. Through-mounting is ideal as long as the equipment housed in the enclosure allows enough clearance for the air conditioner. However, if there is no room in the enclosure interior, an extension frame mount is now available which creates an alcove in the cabinet panel." Bates said the cooling unit installs in the extension frame in the same manner as in the through mount option but there is no protrusion into the main cabinet interior. "This allows us to mount the cooling unit completely on the outside of the enclosure with no loss of efficiency," explained Bates, "since our unique extension frame design creates ideal airflow conditions." Both the standard through mount and the extension frame mount may be used in horizontal or vertical modes.



Conversely, if there is room inside the enclosure but any protrusion on the outside of the enclosure would create and issue, EIC offers a recessed frame mount. This mounting mode places the cooling unit entirely within the cabinet so that all external enclosure surfaces are flat. When the enclosure must be installed in a snug area with little or no room around the cabinet exterior, or the standard mounting would cause the AC to extend out into a high traffic area, the recessed frame mounting option permits controlled cooling of cabinet contents while assuring a compact overall package design. In situations where internal equipment and external enclosure size are posing challenges, EIC can customize a packaged solution including an electronic enclosure and an integral cooling system to meet virtually any equipment protection application.



Made in the USA, EIC electronic enclosures protect controls, computers, cameras, telecom equipment and other electronic/electrical gear from particulate contaminants, oils, water and most other environmental hazards. The weather-tight units are built to NEMA standards and can be equipped with a cooling and heating system for total control over cabinet interior temperatures. Besides air conditioners and heaters, a variety of other options are available from EIC including digital temperature controllers, rain shrouds, drip pans and tamper resistant packages. Enclosures may be fitted with mounting feet, "drop-in" rack mount brackets, insulation or a polycarbonate view window.



For more information about thermoelectric air conditioner mounting options in EIC enclosures please contact EIC Solutions, Inc., 700 Veterans Way Ste. 200, Warminster, PA 18974 USA. Phone: 215-443-5190. Fax: 215-443-9564. email: info@eicsolutions.com. Or visit the EIC web site at http://www.eicsolutions.com.



About EIC Solutions, Inc.

EIC Solutions, Inc., is a leading global provider of cooling and protection solutions for electronics and equipment. Since 1988, EIC has specialized in the design and manufacture of thermoelectric cooling systems for a wide range of applications in many markets including industrial, commercial, military and defense, security and surveillance, oil and gas and infrastructure markets. EIC thermoelectric air conditioners, air conditioned enclosures and air conditioned transit cases meet application requirements for housing and cooling electronics and equipment  -- both stationary and mobile -- in harsh indoor as well as outdoor environments. In addition to pre-packaged solutions, EIC can create custom engineered products designed to meet unique application needs. Flexible production capabilities enable EIC to provide standard and custom solutions for orders ranging from a single piece up to large-scale production rollouts. EIC's customers include Fortune 100 companies, all branches of the military and government agencies.

More from Computer Hardware & Peripherals