AC Motor Controllers and Drives
Enclosed, Variable-Speed AC Drive has compact design.
Press Release Summary: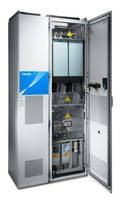 NEMA 1 and NEMA 12 variations of EMC-approved NXC Drive are available with standard diode front end or active front end when requirements call for low harmonics/capability of regenerating 100% of power back to incoming line. Designed for accessibility to relays, auxiliary terminals, and other equipment, control compartment also provides space for connecting power cables and includes keypad on door. Power range is 110 kW to 2 MW, and voltage ranges are 380–500 V and 525–690 V.
---
Original Press Release:

Vacon Launches New Compact NXC Drive



Milwaukee, WI – Vacon® introduces the NXC Drive – an enclosed, variable-speed AC drive for high-power applications that is also one of the most compact of its type on the market. Designed to meet demanding requirements for flexibility and robustness, the NXC is available in NEMA 1 and NEMA 12 variations. Ideal for use in the mining, oil and gas, water and wastewater industries, typical applications for the NXC include: pumps and fans, extruders, main propulsion and bow thrusters, conveyers and crushers, feeders and mixes, winches, compressors, test benches, static power supply and industrial elevators. The NXC is available with a standard diode front end, or with an active front end when there are requirements for low harmonic and/or the capability of regenerating 100% of its power back to the incoming line.



The Vacon NXC is exceptionally user friendly. The control compartment is easily accessible for relays, auxiliary terminals and other equipment, with ample space for connecting power cables. It includes Vacon's handy keypad on the door with additional options for indicators, meters and switches. Enclosures are simple to install with lifting lugs (include. Bottom plates and earthing clamps for 360-degree earthing of motor cables are provided as standard.



Reliable thermal handling for the enclosure guarantees extended lifetime of the frequency converter and ensures that challenging environments don't impact application processes or disturb other electrical equipment. Approved EMC solutions ensure reliable operation of the converter without disturbing other electrical equipment. Other technical features include:

• Power range of 110 kW to 2 MW

• Voltage ranges of 380-500 V, 525-690 V

• Rittal TS8 frame

• EMC approved (EN61800-3, 2nd env.)



ABOUT VACON

Vacon is driven by a passion to develop, manufacture and sell the best AC drives and inverters in the world - and provide customers with efficient product lifecycle services.



Our AC drives offer optimum process control and energy efficiency for electric motors. Vacon inverters play a key role when energy is produced from renewable sources.



In 2014, Vacon's revenues amounted to EUR 409.0 million, and the company employed globally approximately 1,600 people.



The shares of Vacon Plc (VAC1V) are quoted on the main list of the Helsinki stock exchange (NASDAQ OMX Helsinki).









More from Machinery & Machining Tools