Enclosed Print Head System offers wide process window.
Press Release Summary: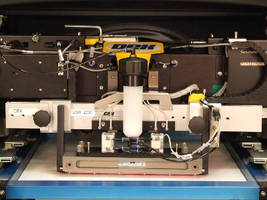 Able to accommodate various material deposition applications, ProFlow® Evolution can mix and condition materials as well as deliver uniform performance control. It uses industry-standard materials syringe packaging and independently creates body of conditioned material at stencil interface. Specific versions include ProFlow Tx - for alternative process applications, including deposition of enzymes, ink, under-fill, and glue - and ProFlow ATx for advanced paste materials.
---
Original Press Release:

DEK Presents Proflow® Evolution; Extends Award-Winning Technology's Capability & Process Window



Since DEK introduced its ProFlow® enclosed print head system over a decade ago, it has been recognised industry-wide for its ability to advance materials deposition applications around the world. Today, DEK has extended the capabilities and process window of its pioneering technology even further with the launch of its highly anticipated ProFlow Evolution.

The inherent benefits of ProFlow enclosed head printing include exceptionally efficient materials transfer, superior throughput rates, higher process yields, lower material consumption and improved process control. Because the material is contained in a sealed environment, as opposed to being exposed to air as in traditional squeegee applications, enclosed head printing affords the environmental and cost saving benefits of lower material waste. Building on the foundation of existing ProFlow engineering, DEK technical specialists have now extended the system's capabilities to deliver efficiencies for a wide variety of applications including traditional solder paste printing, flux deposition, adhesives and encapsulant printing, solder spheres, thermal interface materials, biomedical formulations and more.

In addition to ProFlow Classic for delivering high levels of deposition accuracy across standard applications such as underfill, adhesive and lead-free, and DirEKt Ball Placement(TM) for convenient and cost-effective deposition of solder spheres, DEK has now released two new ProFlow variants. ProFlow Tx is an ideal solution for alternative process applications including the deposition of enzymes, ink, under-fill and glue, while ProFlow ATx is designed for advanced paste materials. The extended competence of ProFlow now incorporates the ability to mix and condition materials and deliver uniform performance control.

By independently creating a body of conditioned material at the stencil interface, the performance of processes such as Pin-in-Paste are also dramatically improved. Other alterations include the use of industry standard materials syringe packaging, a modified chamber design to simplify cleaning and direct material loading capability.

David Foggie, Semicon & Alternative Applications Manager explains: "Part of our suite of Productivity Tools, ProFlow is unequivocally the world's most successful enclosed printing technology. Now with the ability to extend its proven performance capabilities to even more applications, ProFlow is poised to raise the bar yet again for materials deposition technology."

For more information, visit DEK at www.dek.com.

About DEK
DEK is a global provider of advanced materials deposition technologies and support solutions including printing equipment platforms, stencils, precision screens and mass imaging processes used across a wide range of applications in electronics pre-placement subassembly, semiconductor wafer manufacture, and alternative energy component production. For more information, visit DEK at www.dek.com.

Company Contact
Karen Moore-Watts
DEK
Tel: +44 1305 760760
Email: [email protected]
Internet: www.dek.com