Enclosed Pneumatic Vacuum Conveyors Replace Bucket Elevators to Protect Materials from Contamination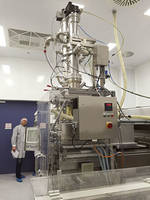 Volkmann VS Conveying System Prevents Exposure to Plant Environment
Bristol, PA: The Volkmann VS pneumatic vacuum conveying system from process equipment manufacturer Volkmann USA, Bristol, PA (https://www.volkmannusa.com) automatically transfers powders, pellets, and other bulk materials in a sealed, dust-tight design to protect against contamination. Replacing bucket elevators, belt conveyors, and other open-air conveying systems, the enclosed Volkmann VS conveyor system eliminates exposure to the plant environment along with the potential for contamination due to humidity, pests, lubricants, and other risk factors. The need to vacuum spillage, remove carryback material, and employ skilled staff for belt and chain maintenance when operating the open-air conveyors are also eliminated.
Suitable for conveying food and nutritional ingredients, chemicals, metals, and other materials when hygiene is paramount, the hygienic pneumatic vacuum conveying system disassembles quickly with no tools for easy cleaning and quick changeovers, eliminating the need to clean and dry dozens of individual buckets and remove soils from belts. The Volkmann VS conveying system is also explosion-proof by design and ATEX-certified for use in hazardous and non-regulated environments.
The sealed pneumatic conveying system may be tested in the company's Bristol, PA test facility. Testing may be viewed live on-site or streamed live online.
For more information, contact Volkmann USA, 1900 Frost Road Suite 102, Bristol, PA 19007; 609.265.0101; contact@volkmannusa.com; www.Volkmannusa.com
Media Contact:
David Nichols
+1-609-265-0101
marketing@volkmannusa.com
Paul Entin
+1-908-479-4231
paul@eprmarketing.com