Enclosed Drive Controller suits HVAC applications.
Press Release Summary: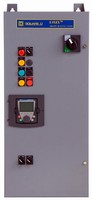 Square D® E-Flex(TM) controllers withstand harsh environments and meet 2003 International Building Code and ASCE 7 standards for seismic qualification. Features include fully rated motor isolation and bypass contactors with mechanical and electrical interlocks. Also included, Telemecanique® Altivar® 61 AC drive comes in 1-50 hp @ 208-230 V or 1-100 hp @ 460 V ratings. Controller, expandable with serial communication card options, has integrated Modbus® and CANopen ports.
---
Original Press Release:

Square D® E-Flex(TM) Enclosed Drive Controllers with Industrial-Grade Reliability for HVAC Applications



PALATINE, Ill. - September 21, 2006 - Square D® brand E-Flex(TM) enclosed drive controllers are an efficient and economical solution for commercial and industrial HVAC pump and fan applications. Recently released by Schneider Electric, the E-Flex enclosed drive controllers are well-suited for HVAC systems in buildings, hospitals, schools, manufacturing facilities, airports and convention centers.

"The E-Flex enclosed drive controllers can increase energy efficiency by reducing the motor speed of HVAC equipment, based on the needs of the building environment," said Harvey Eure, product manager, enclosed drives, Schneider Electric. "In many instances, the payback period for using an adjustable frequency drive in place of other flow control methods is less than 18 months."

The rugged components and sturdy industrial-grade enclosures of the E-Flex enclosed drives are designed to withstand harsh environments and meet the 2003 International Building Code and ASCE 7 standards for seismic qualification. Eure said, E-Flex enclosed drive controllers were subjected to actual shaker table tests for seismic ratings, not just theoretical calculations. The product is designed and constructed to withstand the violent vibrations of a seismic event.

"This means that E-Flex enclosed drive controllers provide the required structural integrity to keep a facility running smoothly after a seismic event," Eure said.

The enclosed drives feature fully rated motor isolation and bypass contactors, with mechanical and electrical interlocks to prevent accidental voltage back feed. A standard feature includes a 3 percent line reactor to provide transient protection from surge and overvoltage, and to minimize line harmonic currents.

E-Flex enclosed drive controllers meet both indoor and outdoor application requirements with Type 1, Type 12/12K and Type 3R enclosures. Type 1 enclosures are designed for indoor, non-dusty environments, while Type 12/12K enclosures protect against dust and dripping liquids. Type 3R enclosures permit installation on rooftops or other outdoor locations and allow operations in temperatures ranging from 14°F to 122°F (-10°C to 50°C).

The E-Flex enclosed drive controller features the new Telemecanique® brand Altivar® 61 AC drive, which is available in two models: 1 to 50 hp at 208V to 230V, and 1 to 100 hp at 460V. Other standard features of the enclosed drives include: top and bottom conduit knockouts for ease of installation; door-interlocked circuit breaker disconnect; 3 percent line reactor for harmonic reduction; variable torque ratings for pump and fan loads; and a door-mounted keypad.

E-Flex enclosed drive controllers feature integrated Modbus® and CANopen ports and are easily expandable with serial communication card options that include: LonWorks, BACnet, Ethernet, Profibus, Modbus Uni-Telway(TM), Apogee P1 and Metasys N2.

For more information on Square D E-Flex enclosed drive controllers from Schneider Electric, visit us.squared.com. For Telemecanique automation and control solutions, visit www.us.telemecanique.com or contact your local authorized Square D/Telemecanique distributor.

Headquartered in Palatine, Ill., the North American Operating Division of Schneider Electric had sales of $2.8 billion (U.S.) in 2005. The North American Operating Division is one of four operating divisions of Schneider Electric, headquartered in Paris, France, and markets the Square D, Telemecanique and Merlin Gerin brand products to customers in the United States, Canada and Mexico. In the United States, Schneider Electric is best known by its flagship Square D brand, with Telemecanique becoming increasingly known in the industrial control and automation markets and supported by many Square D distributors. For 100 years, Square D has been a market-leading brand of electrical distribution and industrial control products, systems and services. Schneider Electric is a global electrical industry leader with 2005 sales of approximately $14.5 billion (U.S.). Visit Schneider Electric on the Internet at:

Corporate - www.us.schneider-electric.com
Telemecanique Products - www.us.telemecanique.com
Square D Products - us.squared.com
Merlin Gerin Products - us.merlingerin.com

Please send all reader inquiries to:
Square D Literature Fulfillment Center
W6545 Quality Drive
Greenville, WI 54942
Attention: Sue Tebo
800-392-8781
or e-mail to: SquareD@banta.com

Schneider Electric
North American Operating Division
1415 South Roselle Road
Palatine, IL
60067-7399
Tel. (1) 847-397-2600
Fax (1) 847-925-7271
http://www.us.schneider-electric.com

More from Mechanical Power Transmission