Empire Digital Signs is Helping Libraries Around the Country Evolve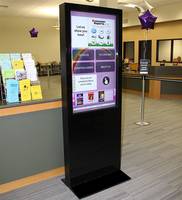 Libraries have undergone a digital awakening, and see the need for interactive hubs used for finding information, staying involved and aware, as well as locating and checking out books.
Empire Digital Signs (Rochester, NY) has grown over the past five years to become the market leader in library digital signage. With the help of our professional content creation team, we have been installing interactive kiosks in libraries all over: from Cleveland, Ohio, to Providence, Rhode Island, and many more. Learn how our digital signage company has made its mark when it comes to these interactive touchscreen systems by looking a little deeper into what exactly they're capable of:
Interactive Tour Guide
Do people often come up to the circulation desk asking for the location of a specific book, or maybe just a specific genre section? Library Wayfinding eliminates the time it would take an employee to give directions, or walk this patron to find what they're looking for. Provide visitors with simple and convenient turn by turn directions at the touch of a finger. Empire Digital Signs provides libraries with the option of 2D or 3D wayfinding, so that the look and feel fits the facility's atmosphere and the needs of its visitors. Our team will work with you to make sure your map beautifully highlights every aspect of your library.
Library Event Awareness
Eliminate the cost of printing your event calendars or flyers every time your library hosts an event. Use your kiosk to your advantage by displaying a live calendar (Google, Outlook, etc.) and/or placing advertisements directly on the main page to serve as a centralized communication vehicle to keep staff supportive and informed of current and future events. Even place a live feed with local news or your social media accounts to keep patrons up to date. Using an EZ Updater, you can schedule and update content remotely to always keep your kiosk fresh and relevant – straight from your PC!
Digital Information Desk
EDS can directly tie into your library catalog and access all book and movie titles, along with letting users know if they are available or not. Visitors can also place books on hold right at the kiosk to ensure they get what they need. This not only inspires independence but frees up time for staff. Place your system where people first walk in to not only capture their attention but to provide them with all the information they may need before they even approach the circulation desk.
Other Capabilities
RSS feeds / news feeds / social media feeds
Weather / forecast
Book river / book suggestions
Customization (user interface design, colors, buttons, enclosure, etc.)
Government compliances (meeting databases, information requirements, etc.)
iFrame and seamless database integration
Remember - every solution Empire Digital Signs provides is completely customizable. We work with you to make any digital signage you choose look and function the best it possibly can.
For more information on interactive kiosks for libraries, or digital signage in general, please visit https://empiredigitalsigns.com/contact-us/
More from Labels Tags Signage & Equipment