EMITECH Expands to Meet Aeronautic Test Demand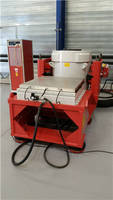 French qualification expert duplicates LDS vibration test system, taking total over 40



FRANCE – Qualification test expert, EMITECH has expanded its vibration measurement capabilities with a new V8 Combo shaker - a high-end, air-cooled shaker from Brüel Kjær's LDS shaker range.



The France-based company specialises in environmental tests on a wide range of electrical and mechanical products, from toys to aircraft subparts.



EMITECH has recently experienced a growth in vibration test requests from national and international customers regarding vibration, so the EMITECH Group decided to enrich its mechanical test benches, adding another shaker system to the four V8 combo models already purchased in 2012. As a result, EMITECH's Technical Director, Stephan Lassausse, contacted Brüel Kjær VTS to discuss its development of vibration tasks, particularly in test requirements and maintenance policy.



To help EMITECH meets its growing customer demand, Brüel & Kjær's VTS team recommended the company duplicate a system it had bought three years earlier. The new vibration test system will be comprised of a dual slip plate Combo solution based on V8 LDS shaker, providing EMITECH with more testing options for its aeronautic customers.



The custom design will have five extra bearings on the standard HBT900 slip table, enabling it to manage big payloads with maximum guidance guarantees. It is also equipped with a HBT600 slip plate that will use the remaining bearings to meet space test requirements (high acceleration). The V8 provides an acceleration sine peak up to 140g. It also has a 2. 5" displacement in continuous mode and shock. The V8 shaker can test loads up to 700 kg and has the lightest armature, so it can compete with shakers that are more powerful.



The shaker will be installed in a new EMITECH laboratory, located in southwest France (Toulouse), as part of a massive laboratory investment. This also includes the purchase of anechoic chambers for EMC tests and climatic chambers, providing additional test benches to EMITECH's core businesses: electromagnetic compatibility and environmental tests.



EMITECH Group is composed of 16 accredited laboratories (ISO/IEC ISO 17025) based in France, which supply global services. EMITECH is internationally recognized for its expertise in EMC and environmental testing, as well as training programmes and engineering concerning several fields of activity, including automotive, military, aeronautics, space, railway, general public, telecom, medical and nuclear.



With their latest acquisitions (Environne'tech and Dirac subsidiaries), the Group is now equipped with more than 40 electrodynamic shakers and 50 anechoic chambers.



Further information about EMITECH is available on the company's website: http://www.emitech-group.com/.



Learn more about V8 shakers



About Brüel & Kjær

Brüel & Kjær helps solve sound and vibration challenges, and develops advanced technology for measuring and managing sound and vibration.



As a specialist in this domain, the company helps customers ensure component quality, enhance product performance and monitor operational compliance.



Over more than 70 years, many of Brüel & Kjær's research and development people have become recognized global experts, who aid the scientific community and teach at renowned centres.



The application of experience and technology promotes quality and efficiency at every stage of a product's life cycle: design, development, manufacture, deployment and operation.



Through mastering sound and vibration, Brüel & Kjær helps to accelerate business growth and improves environmental quality.



Brüel & Kjær is a subsidiary of UK-based Spectris plc (www.spectris.com) which has annual sales of £1.1bn and employs around 7,500 people worldwide across its four business segments.



For additional information please contact:

Heather Wilkins

Marketing Coordinator

Bruel & Kjaer

Telephone: 01223 389 800

Web: www.bksv.com

Email: heather.wilkins@bksv.com



Bruel & Kjaer UK Limited is registered in England and its registration number is 4066051. The registered office of Bruel & Kjaer UK Limited is Jarman Way, Royston, Herts, SG8 5BQ, England.



More from Thermal & Heating Equipment