Emissions Solution suits diesel/gas engine applications.
Press Release Summary: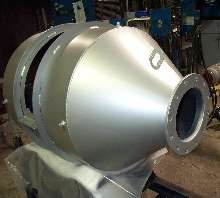 Combination silencer/catalyst utilizes one of two catalyst capturing techniques within silencer shell: a gasket-wrapped catalyst module or a torturous path configuration with serpentine interlocks around catalyst. Both designs completely seal silencer and ensure that exhaust gas passes through catalyst. Product is available in 4 performance grades with overall attenuation to 40 dB. Base catalyst housing packages are large end-in, end-out configured units.
---
Original Press Release:

Universal Silencer Supplies Emissions/Noise Control Solutions for Engines


Universal Silencer, Inc. (USI), a global noise control and air filtration solution engineer and manufacturer, has two emissions solutions available for stationary diesel and gas engine applications: a combination silencer/catalyst and an emissions catalyst unit.

The combination silencer/catalyst is a unique variation of the USl EN Series heavy-duty engine exhaust silencer, extended slightly to allow room for catalyst insertion (fig. 1). This new solution utilizes one of two catalyst capturing techniques within the silencer shell. The first employs a gasket-wrapped catalyst module, which fits tightly between internal guide rails. The second uses a torturous path configuration, which uses serpentine interlocks around the catalyst to prevent gas bypass. Both designs completely seal the silencer and ensure that exhaust gas passes through the catalyst. For the greatest emissions reduction results, special care is given to enable exhaust gas uniformity prior to passing through the catalyst. The combination silencer/catalyst solutions are available in four performance grades, with overall attenuation to 40 dB.

USI's base catalyst housing packages are large end-in, end-out configured units with a flanged inlet and outlet connection. Conical sections (fig. 2) or standard dished silencer heads are used, depending on the pressure drop requirements of the unit. The cylindrical housing body can incorporate either of the catalyst capturing designs as the combination silencer/catalyst units. This complete catalyst package includes multiple pressure, temperature and other measuring ports, and is available in various stainless steels or standard carbon steel.

A history of close collaboration with sister company Fleetguard® Emissions Solutions(TM) enabled USI to incorporate several customized design characteristics into its silencers and catalyst packages for optimum catalytic and acoustic performance. The result is a specialized emission and noise control solution that integrates many decades of acoustic and emissions expertise.

USI, working with EAS (a Crystal Lake, IL based emissions sales group), has supplied these solutions to end-users in the gas transmission market, where pumping stations power large pumps and compressors with diesel or gas engines (both types must meet strict emission regulations and have adverse noise considerations). USI emissions and noise control products are currently operational on Waukesha, CAT, White Superior, Ajax and Cummins stationary engines.

For more information about these emissions-based solutions, call Universal Silencer at 888.300.4273.

Universal Silencer, headquartered in Stoughton, WI, is a global provider of noise control and air filtration systems and solutions. USI is a proud member of the Fleetguard family of brands and an ISO-certified manufacturer. For additional information, go to www.universalsilencer.com.

Fleetguard® Emissions Solutions(TM), a member of the Fleetguard family of brands, develops emissions and exhaust solutions for trucks, heavy duty vehicles, buses, off-road and other diesel applications. Go to www.fleetguard.com for more information.

Kenneth L. Murray, PCM
Marketing Programs Manager
phone: 608.873.4192
fax: 608.873.4298
email: kenneth.l.murray@universal-silencer.com
web: www.universalsilencer.com

More from Software