EMI Suppression Filters offer high attenuation rates.
Press Release Summary: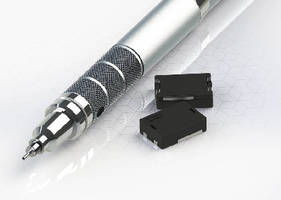 Employing exclusive circuit configuration combining capacitors and ferrite beads, BNX026/27/28/29 Series comprises LC combined-type EMI suppression filters offering attenuation rates of 35 dB or more over wide frequency range of 15 kHz to 1 GHz. Surface mount DC line noise filters with current rating of 15 A are suited for power supply circuits susceptible to low-frequency-band noise, while parts with voltage rating of 50 V are suitable for automotive applications.
---
Original Press Release:

Murata's Combined LC Type EMI Suppression Filters Have High Attenuation Characteristics for Modern Devices



Hoofddorp, Netherlands: Murata today announced the launch of its BNX series of surface mount, LC combined-type EMI suppression filters for the automotive, industrial electronic equipment, and healthcare markets.  The filters employ an exclusive circuit configuration combining capacitors and ferrite beads to achieve superior frequency characteristics and excellent attenuation characteristics for highly effective noise damping.



In recent years, the trend toward more sophisticated functionality in set devices has intensified the need to reduce noise levels and this has driven the demand for noise filters with improved attenuation characteristics.  In response to this market demand, Murata has developed the BNX026/27/28/29 series of EMI suppression filters that deliver high attenuation characteristics over a wider bandwidth range.



The new series of DC line noise filters cover a wide range of frequencies, from the kilohertz to the gigahertz bands. The filters are also compatible with large currents and high voltages, making them suitable for a broad range of applications.



Insertion loss characteristics enable high attenuation rates of 35dB or more over a wide range from 15kHz to 1GHz.  BNX filters with a current rating of 15A are ideal for power supply circuits susceptible to low-frequency-band noise, whilst parts with a voltage rating of 50V (BNX026H01 and BNX027H01) are suitable for automotive applications requiring support for high voltages.



Murata's BNX series of EMI filters are suitable for noise reduction on DC power lines in electronic equipment, automobiles, medical equipment, factory automation equipment, control equipment, communication equipment, digital AV equipment, and other applications.  Mass production is currently underway at plants in Japan



For further information and reader enquiries:

Donia Kamil

Murata Electronics Europe B.V.

Wegalaan 2, 2132 JC Hoofddorp

The Netherlands

Tel: +31 (0)23 5698456

E-mail: dkamil@murata.com

Fax:  +31 (0)23 5698361

Web: www.murata.com



About Murata

Murata is a leading manufacturer of electronic components, modules, and devices. The complete range of this Technology house includes ceramic capacitors, resistors/thermistors, inductors/chokes, timing devices, buzzers, sensors and EMI suppression filters. Whilst the company is known as a global ceramic capacitor manufacturer, it is also the world leader in Bluetooth® & WiFi™ Modules,  the world's no.1 manufacturer of board-mount DC-DC converters and is a key manufacturer of standard and custom AC-DC power supplies.



Established in 1944, Murata is headquartered in Japan and has European offices in Finland, France, Germany, Hungary, Italy, the Netherlands, Spain, Switzerland and the UK.



For more information on Murata, please visit: www.murata.com. You can also follow us on Twitter @MurataEurope or LinkedIn http://www.linkedin.com/company/murata-electronics, or join us on Facebook at http://www.facebook.com/MurataElectronics.

More from Software