Emergency Tent Shelter Lighting Systems in High Demand for Disaster Relief Operations During Hurricane Sandy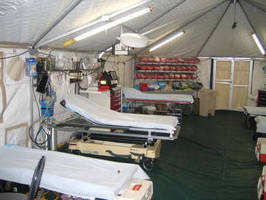 K&H Industries offers several temporary lighting systems for temporary shelters used during disaster relief operations. From slimline 20 Watt and 40 Watt Add-a-Lights to the robust 5,200 and 11,800 lumen output of the Quad Light. Both temporary lighting systems allow several lights to be strung together in a daisy chain for continuous
feed through lighting

Hamburg, NY - KH's temporary lighting systems are used by the military, first responders, and disaster relief organizations for lighting in emergency shelters and tents. Standard lighting packages include high output fluorescent bulbs that provide shadowless lighting with cool light output. Energy efficient LED bulbs are also available.

"Our emergency lighting systems are used around the world for temporary emergency shelters. Right now, we are working to fulfill the needs of emergency tent shelter companies and relief agencies for the disaster relief operations from Hurricane Sandy. Our Emergency Lighting Systems provide lighting for temporary hospitals, command centers, and food service centers. It's a humbling experience, but one we are proud to be part of," states John Herc, vice president sales and marketing of KH industries.

KH's exclusive shatter resistant tubeshield protects the bulb from breakage during accident drops and falls. Rubber handles and end caps create a protective seal for the Add-a-Lights, while the Quad Light features laminated bulbs, shatter resistant tube shields, as well as an aluminum back bone and rubber bumpers that create a shatter resistant lighting solution.

KH's Quad Lights and Add-a-Lights are proudly Made in the USA.

Contact us for more information on KH Industries temporary lighting systems: Visit: www.khindustries.com/webmodules/catcatalog/dtl_category.aspx?CatID=21 or Call Us: 716-312-0088

KH Industries is leading USA manufacturer of temporary lighting and power solutions for the utility, aviation, fleet, construction, manufacturing, chemical, petroleum and marine industries.

More from Electronic Components & Devices