Emergency Lighting incorporates USB rapid charging capability.
Press Release Summary: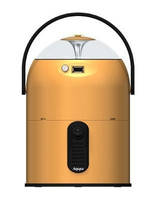 Designed for use in emergency response and disaster situations, Aqupa Dome Lantern provides off-grid lighting and USB-based charging capabilities for mobile devices. Four high-intensity LEDs can continually produce 7,600 lm for ~160 hr, and 4.5 V USB port rapid-charging capability allows iPhone® to be charged from 0 to full in ~30 min (90 min for iPad®). Weighing 950 g, product can be used repeatedly by replacing magnesium power bar kit.
---
Original Press Release:

Aqua Power Systems to Expand Aqupa Product Line with RMAF Emergency Lantern with integrated USB Rapid Charging Unit



TOKYO -- Aqua Power Systems, Inc. (OTC-QB: APSI) (the "Company"), operating through its wholly-owned subsidiary Aqua Power System Japan Kabushiki Kaisha ("AP Japan"), is pleased to announce the development of the Company's newest product, the Aqupa Dome Lantern with USB Charging, which provides critical off-grid lighting and USB charging capabilities in emergency response and disaster situations.



Tadashi Ishikawa, President of the Aqua Power, commented, "The addition of the innovative new Aqupa Dome Lantern emergency lighting and USB charging device to our product lineup expands the Aqupa brand and builds upon the previous success of our emergency NoPoPo water activated RMAF batteries in Japan."



The Aqupa Dome Lantern with USB Charging is the latest product developed by Aqua Power to provide emergency light and enables full charging of smartphones, tablets, and other USB devices (including iPhones and iPads).  The Aqupa Dome Lantern can produce approximately 160 hours of continuous light from four (4) high-intensity LEDs producing 7,600 lumens of light (comparable to a fluorescent 100W lightbulb).  The Aqupa Dome Lantern also utilizes a high-power 4.5V USB port rapid-charging capability which allows an iPhone to be charged from zero to full in approximately 30 minutes and the iPad in 90 minutes.  Aqupa Dome Lantern with USB Charging weighs 950 grams and can be used repeatedly by replacing the magnesium power bar kit. The Aqupa Dome Lantern with USB Charging is expected to be in production in fall 2015.



Mr. Ishikawa added, "This is just the beginning of our corporate growth strategy.  We anticipate that this will be the first of many exciting new consumer and industrial scale critical power solutions that we launch and bring to global markets over the coming months that utilize our unique patented RMAF magnesium-air batteries and fuel cells."



ABOUT AQUA POWER SYSTEMS, INC.

Aqua Power Systems, Inc. (APSI), through its wholly-owned subsidiary Aqua Power System Japan Kabushiki Kaisha, is a developer, distributor, and marketer of magnesium air fuel cell products.  Founded in 2004 by Tadashi Ishikawa, Aqua Power Japan has successfully commercialized magnesium air fuel cells for generating safe, green, reliable and inexpensive off-grid electricity.



For additional information regarding Aqua Power, please visit www.aquapowersystems.com.



On behalf of the Board, Tadashi Ishikawa, President



For further information please contact: info@aquapowersystems.com



Investor Relations contact: Netgain Financial Inc. (http://netgain-financial.com) at (760) 942-4500



CONTACT: Tadashi Ishikawa, +81-804-1506611

More from Electronic Components & Devices