EME720 Horizontal Louver uses drain pockets.
Press Release Summary: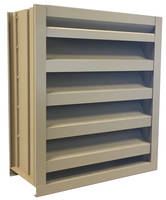 Available in variety of anodized and painted finishes in 90 x 120 in. dimensions, EME720 seven-inch Horizontal Louver comes with closely-spaced horizontal blades which reduces the penetration of wind-driven rain and decrease water damage. Featuring aluminum construction, unit offers low maintenance and resistance to corrosion. Louvers are used in stadiums, arenas and convention centers.
---
Original Press Release:
Ruskin® Introduces New EME720 Seven-Inch Horizontal Louver, Combining Continuous-Blade Architectural Appearance and Wind-Driven Rain-Resistant Performance
Ruskin®, a manufacturer of air control solutions, has introduced the EME720 seven-inch horizontal louver. The EME720 louver features industry-leading 56 percent free area and combines a continuous-blade architectural appearance with the performance of a wind-driven rain-resistant louver.
The louver's architectural mullion is recessed, notched in the blade, and utilizes drain pockets allowing water to drain away while contributing to an appearance of one continuous louver.
The EME720 appeals to architects seeking a long, uninterrupted look that will enhance a variety of monumental structures, including stadiums, arenas and convention centers. It also appeals to engineers, who can take advantage of its extreme weather performance and impressive free area in their mechanical designs.
Closely-spaced horizontal blades minimize the penetration of wind-driven rain, reducing water damage and additional operating expenses.
The louver is available in single sections as large as 90 by 120 inches and can be ordered with a variety of anodized and painted finishes, including standard colors and custom color matching. The louver's aluminum construction ensures low maintenance and high resistance to corrosion.
To learn more about the EME720 wind-driven rain-resistant louver, visit http://www.ruskin.com/catalog/model/eme720.
About Ruskin
Acquired by Johnson Controls in 2014, Ruskin is a worldwide leader in manufacturing air control solutions. Backed by nearly 60 years of expert engineering and innovation, Ruskin is widely recognized as the most specified brand for high-performance air control solutions, including dampers, louvers, energy recovery ventilators (ERV), air measurement devices and sound control for HVAC systems. Ruskin products are used in commercial applications such as data centers, high-rise buildings, retail, hotels, healthcare and education facilities. In addition, Ruskin products can be found throughout the world's industrial applications, such as warehouses and transportation hubs.
About Johnson Controls
Johnson Controls is a global diversified technology and multi industrial leader serving a wide range of customers in more than 150 countries. Our 130,000 employees create intelligent buildings, efficient energy solutions, integrated infrastructure and next generation transportation systems that work seamlessly together to deliver on the promise of smart cities and communities. Our commitment to sustainability dates back to our roots in 1885, with the invention of the first electric room thermostat. We are committed to helping our customers win and creating greater value for all of our stakeholders through strategic focus on our buildings and energy growth platforms. For additional information, please visit http://www.johnsoncontrols.com.
Contact:
Mark Saunders
Director of Sales and Marketing, Ruskin
Main: 816-761-7476
Direct: 816-986-5467
Mobile: 214-587-8165
Email: Mark.Saunders@Ruskin.com
More from Non-Industrial Products