EMC Filter for Single Phase Applications - Newly Introduced DC Approval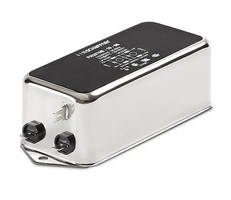 The very popular single-phase EMC filter portfolio of Schaffner is extended by additional highperformance versions of the filter family FN 2070.
The internationally leading company in the field of electromagnetic compatibility introduces a new series of single-phase filters. The new high-performance filters are an extension to the standard variants of the FN 2070 series. They are designed to meet the highest performance demands for single phase filters. The new parts were developed to fit the existing housing sizes. Together with the already introduced extension to the FN 2010, FN 2030 and FN 2090 series, the FN 20XX family offers the most compact, highest performance chassis mount filters ever introduced by Schaffner.
The filters have all the required safety approvals and are compatible with the RoHS Directive
For further information, please visit www.schaffner.com or get in touch with your local Schaffner sales point or Schaffner partner for individual support.
More from Material Handling & Storage