Embedded Web/Networking Server is offered in RJ-45 package.
Press Release Summary: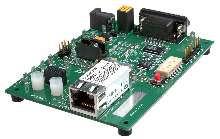 XPort(TM) network-enabling solution cuts typical internal development cycle for adding networking capabilities from 6-9 months down to as little as 60 days. Product includes 10Base-T/100Base-TX Ethernet connection, embedded Web server, flexible firmware, TCP/IP protocol stack, and real-time email alerts. Product also incorporates 128-bit standards-based (AES) Rijndael encryption algorithm for security purposes.
---
Original Press Release:

Lantronix Ships the World's First Embedded Web / Networking Server In a Compact RJ-45 Package


First Member of the XPort(TM) Family of Embedded Device Servers Reduces the Complexity of Integrating Networking Capabilities from Many Months to as Little as 60 Days, Dramatically Cutting Time to Market

Irvine, Calif. (February 24, 2003) - Lantronix®, Inc. (Nasdaq: LTRX) today shipped its new XPort(TM) embedded device server, a complete network-enabling solution enclosed within a ruggedized RJ-45 package, to enable original equipment manufacturers (OEMs) to quickly and easily go to market with networking capabilities built into their products. Smaller than the average person's thumb, the XPort dramatically cuts the typical internal development cycle for adding networking capabilities from 6-9 months down to as little as 60 days.

The XPort targets anyone who designs electronic products and needs to enhance those products by adding networking capabilities to them. To eliminate the complexity of creating a network-enabling solution, the XPort provides a complete, integrated solution that includes a 10Base-T / 100Base-TX Ethernet connection, a reliable and proven operating system, an embedded Web server, flexible firmware, a full TCP/IP protocol stack, email alerts and optional 128-bit standards-based (AES) encryption. Everything designers need to add network connectivity is incorporated into the XPort's compact design to enable them to "drop" the XPort onto a simple circuit board with a minimum of engineering, dramatically reducing their time to market.

With more than 2 million products in use worldwide, the experience that we gained in developing our products has given us the expertise to leapfrog our competition with a market-disruptive technology such as XPort," said Geoffrey Boyce, executive vice president of marketing at Lantronix. "Using the XPort's highly integrated hardware and software platform, manufacturers will enhance their profitability by significantly reducing the engineering risk and cost associated with adding networking capabilities to their products."

"Adding device connectivity is becoming a market necessity among manufacturers thanks to XPort and other solutions, which offer them an easy-to-integrate, comprehensive network-enabling solution that dramatically shortens their product development time," said Glen Allmendinger, president at Harbor Research, a strategic consulting and research firm. "Companies that deploy and use network-enabled solutions typically realize measurable ROI within 9-12 months. Demonstrating why it is the industry leader in the networking connectivity market, Lantronix has created the ideal solution in the XPort for manufacturers to respond to this ROI model and the corresponding customer demand for network-enabled solutions."

According to Boyce, the XPort addresses the classic make-versus-buy question that all manufacturers must face when adding networking capabilities to their products. "Manufacturers do not need to spend upwards of 48 'person-months' and hundreds of thousands of dollars in development time becoming an expert on Ethernet and writing an IP stack when they can simply purchase an integrated solution from Lantronix. We have taken the complexity out of developing a network-enabling solution and made it amazingly simple by doing it all for them," said Boyce.

Boyce points out that one of the primary differences between the XPort and its competitors is that it offers the highest measure of security on the device server market. Lantronix is the first device-networking provider to offer the Rijndael encryption algorithm as an option in any of its device service products. Rijndael is a candidate for the Advanced Encryption Standard (AES) and a federally mandated encryption method for any product purchased by a government agency.

"Lantronix understands the extreme importance of ensuring the most secure connection for the information that is transmitted to and from a networked device," said Boyce. "For this reason, Lantronix built Rijndael encryption and password protection into the XPort to prevent unauthorized access."

For more effective remote monitoring and management of networked devices, the XPort enables email notification of a prescribed event or alarm on a device. "Real-time notification of alarms is critical in responding quickly to any problems or interruption of service," said Boyce. "This key function demonstrates the powerful feature set that was incorporated into XPort."

XPort Development Kit
An XPort Development Kit is available to provide a quick and cost-effective way to evaluate the product. The kit can enable manufacturers to jumpstart their development work by providing the following items: a circuit board assembly with the XPort, a power supply, configuration options, status LEDs and an RS232 serial interface for an easy connection to a PC. A reset circuit with a push-button reset, status LEDs and a timer circuit are also available. For more information on receiving a XPort Development Kit, contact an authorized Lantronix manufacturing representative.

Pricing and Availability
The list price of the XPort is $49.00. Discount pricing on the XPort is also available in volumes of ten thousand.

About Lantronix, Inc.
Lantronix, Inc. (NASDAQ: LTRX) is a provider of hardware and software solutions ranging from systems that allow users to remotely manage network infrastructure equipment to technologies that network-enable devices and appliances. Lantronix was established in 1989, and its worldwide headquarters are in Irvine, Calif. For more information, visit the company on the Internet at www.lantronix.com.


More from HVAC