Embedded PC combines machine control, network connectivity.
Press Release Summary: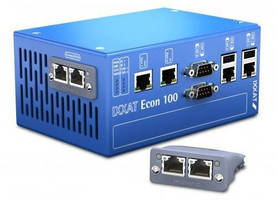 As stand-alone, embedded PC with up to 1 GB RAM as well as 24 inputs and outputs, IXXAT Econ 100 combines machine control with fieldbus and industrial Ethernet capabilities of Anybus technology. This fanless, ARM-based platform incorporates Linux OS and multi-protocol support and several on-board interfaces: 2 Ethernet, 2 CAN, and 2 USB. Supported expansion board offers analog and digital I/O as well as slot for HMS Anybus CompactCom modules, serial interface, and 512 MB NVRAM.
---
Original Press Release:

Machine Control and Industrial Network Connectivity Combined in the New IXXAT Econ 100



With the new IXXAT Econ 100, HMS offers a stand-alone embedded PC for real-time Industrial Ethernet for many applications – from small material handling devices to complex robot-based systems for medical use. The Econ 100 combines the machine control expertise from IXXAT with the fieldbus and industrial Ethernet capabilities of HMS' Anybus technology.



The Econ 100 is an ARM-based embedded PC platform for top-hat rail mounting incorporating a Linux operating system and unique multi-protocol support. Customer-specific gateway and control solutions can be swiftly and simply implemented for a variety of different fieldbus and industrial Ethernet standards. From the "out-of-the-box" variant to specific OEM solutions, the Econ 100 comes with unique flexibility and performance.



New expansion board combines multi-protocol approach with local I/Os and enhanced data security



In addition to the on-board interfaces (two Ethernet, two CAN and two USB interfaces), the Econ 100 can be expanded by means of a new expansion board: Alongside analog and digital I/Os, the expansion card offers a slot for HMS Anybus CompactCom modules, a serial interface and 512 MB NVRAM.



The CompactCom modules are available for all popular fieldbus and Industrial Ethernet networks and can be easily interfaced from the Econ 100 application software by means of the common Anybus programming interface. Together with the EtherCAT and CANopen master solutions that are already available with Econ 100, this multi-protocol approach makes the Econ 100 an ideal and future-proof platform for customer-specific control solutions with communication included.



The expansion card also provides 24 inputs and outputs e.g. for direct connection to sensors and actuators. Thanks to an digital output current of up to 2 A and a 12-bit resolution for the analog channels, the Econ 100 is ideal for a wide variety of applications, and the RS232/RS485 interface makes the Econ 100 a perfect link between real-time Industrial Ethernet or CAN-based networks and proven serial applications.



With the NVRAM available on the expansion card, the Econ 100 covers data security for the user. Using this feature, it is suitable for critical applications such as automated handling technology, where the last operating state with all process variables must be retained in case of power failures.



Simplified programming with Soft-PLC

In addition to supporting programming in C/C++, HMS offers an intuitively operated Soft-PLC programming environment in collaboration with Copalp, which is consistent with IEC 61131-3 for simple programming and configuration of control applications. The software package supports all important protocols, including CANopen, EtherCAT, Powerlink, PROFINET and EtherNet/IP.



In order to support a rapid and efficient implementation of complex applications, HMS offers various well-documented application development kits, ADKs, for the Econ 100. The ADKs include an extensive board support package incorporating all necessary interface drivers, sample applications, the respective protocol software package pre-installed on an SD card, and the Linux operating system.



Designed to be used in many fields

The combination of a powerful CPU, up to 1 GB RAM, the rugged metal casing as well as a fanless design with an extended temperature range of -40 °C to +60 °C, ensures that the Econ 100 matches requirements of various important application areas.



In addition to the standard version, the Econ 100 is also available as a board-level product which can be integrated in existing customer applications while taking up very little space. OEM versions with specific hardware adaptations and adapted application variants can be developed by HMS on request.



Further information is available at www.ixxat.com/econ

The IXXAT Econ 100 with an integrated Anybus CompactCom – in this example offering connectivity to PROFINET.



HMS Industrial Networks

HMS Industrial Networks is the leading independent supplier of products for industrial communication including remote management. HMS develops and manufactures solutions for connecting automation devices and systems to industrialnetworks under the Netbiter, Anybus and IXXAT brands.



Development and manufacturing take place at the headquarters in Halmstad, Sweden and in Weingarten, Germany. Local sales and support are handled by branch offices in China, Denmark, France, Germany, India, Italy, Japan, UK, and USA. HMS employs over 350 people and reported sales of 57 million EUR in 2013. HMS is listed on the NASDAQ OMX in Stockholm.



HMS Industrial Networks Inc.

120 Bedford Center Road, Ste 102

Bedford, NH 03110

USA

Phone : 1-603-471-0800

Fax : +1-603-471-0800 ext. 101

sales@ixxat.com



HMS Industrial Networks

Stationsgatan 37

30245 Halmstad

Sweden

www.anybus.com

NALIN Michela

Phone : +46 351729 93

Fax : +46 351729 09

min@hms.se

More from Services