Embedded Network Enabler suits industrial serial devices.
Press Release Summary: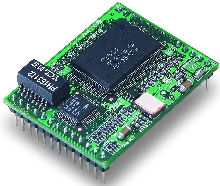 Measuring 45 x 36 mm, NE-4100T offers complete Ethernet connectivity solution (TCP Server, TCP client, UDP) to network-enable serial devices. It includes built-in TCP/IP stack, 10/100M Ethernet auto-sensing interface, and 4 GPIO pins. Product's 5 V design incorporates TCP/IP communication firmware and dual-in-line 26-pin design with built-in transformer. Configuration is done via Windows utility, Web browser, or telnet or serial console.
---
Original Press Release:

Moxa Technologies Launches NE-4100T-New Network Enabler (NE) Embedded Module for Industrial Serial Devices


Moxa Technologies announces the launch of a new Embedded Network Enabler. The NE-4100T offers a complete Ethernet connectivity solution (TCP Server, TCP client, UDP) to network-enable your serial devices. With its compact size-only 45 x 36 mm, or less than half the size of your credit card-you can easily integrate NE-4100T into your serial device to make the device 10/100M Ethernet-ready.

NE-4100T's industrial-proven, built-in TCP/IP stack makes it easy for your R&D engineers to network-enable your serial device by reducing TCP/IP programming efforts. The 10/100M Ethernet auto-sensing interface lets you enjoy the higher transmission speed when available, and NE-4100T's 4 GPIO pins provide ample design flexibility, giving you the freedom to develop the features your customers need. NE-4100T's 5V design is better suited for today's equipment, and R&D engineers can spend less time implementing the power circuit.

NE-4100T comes with a reliable, ready-to-use TCP/IP communication firmware for fast integration. Configuration is done with a user-friendly Windows utility, Web browser, telnet console or serial console. In addition, a Windows-based NECI (Network Enabler Configuration Interface) Library is available to help you develop your own Windows utilities. NE-4100T has a standard pin space (0.254 mm) with a dual-in-line 26-pin design that lets you shorten the layout time and get your product to market in no time The built-in transformer ensures a noise-free signal, and also saves time and space when designing the Ethernet circuit.

Programmable version also available
A C-Programmable version is available for custom applications such as protocol conversion and front end data processing. The NE-4100T Software Development Kit (SDK) includes a Turbo C compiler and more than 100 Application Program Interface (API) functions for socket command and serial port control. Explanatory sample programs are also available to reduce your software developing time.

Features
· Embedded Serial (TTL) to 10/100M auto-sensing Ethernet 26-pin drop-in module for Network enabling
· Compact size (45 x 36 mm) and Dual-in-Line 26-pin headers for easy integration
· Ready-to use TCP/IP firmware for fast integration
· TCP Server, TCP Client, UDP, and Real COM operation modes for various application needs
· Low power consumption (1.5W)
· Easy configuration with Web browser, serial console, and Windows utility
· Dedicated 4 GPIO for user's application
· Programmable version for a value-added solution

NE-4100T Starter Kit
The NE-4100T Starter Kit provides a quick and cost-effective way to evaluate this new product. The Starter Kit allows manufacturers to jumpstart their development work by providing the following items: an evaluation board assembly that includes NE-4100T, a universal power supply, configuration utility and software (on CD-ROM), status LEDs, and serial interface for easy connection to a PC.

About Moxa Technologies Co., Ltd.
With more than 16 years of experience in the development and marketing of industrial communications products, and over 5,000,000 serial ports installed around the globe, Moxa Technologies is one of the leading serial and serial-to-Ethernet communications product supplier in the world. Moxa's products are CE and FCC approved, and come with various interface configurations, such as ISA, PCI, and Universal PCI, and work with all major operating systems, including Windows XP, Windows 2000, Windows NT, Windows 95/98, Windows 3.x, DOS, OS/2, Linux, UnixWare, SCO Unix, Solaris, and QNX. Moxa is committed to the continual development of new technology, high performance, and reliability, as well as a friendly user-interface, to meet customers' serial, serial-to-Ethernet, and industrial Ethernet communications needs. Moxa's vision is to be the "Total Solution for Industrial Device Networking" for all industrial data communications customers.

The MOXA Technologies logo is a registered trademark of Moxa Technologies Co., Ltd. All other trademarks mentioned in this document are the property of their respective owners.

More from Cleaning Products & Equipment