Embedded Firewall Software protects against cyber attacks.
Press Release Summary: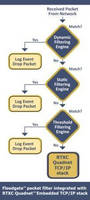 Designed to meet ANSI/ISA/IEC/TS 62443 standards for cyber security, Floodgate™ Packet Filter adds firewall security to RTXC™ Quadros™ real-time operating system (RTOS)-powered devices to protect against Internet-based attacks. Solution provides Stateful Packet Inspection (SPI) and rules-based filtering and is designed for use in embedded devices with limited memory and processor speeds that require secure network implementation certified to such standards as ISASP 99.
---
Original Press Release:

Quadros Systems and Icon Labs Launch New Defense Against Cyber Attacks



Floodgate Packet Filter software adds security and firewall filtering to the RTXC Quadnet Ethernet-TCP/IP stack to protect industrial control and smart grid systems from cyber-attacks



San Jose, California – Icon Labs (www.iconlabs.com), a leading provider of embedded networking and security technology, and Quadros Systems (www.quadros.com) a leading provider of real-time operating systems (RTOS), today announced the availability of Icon Labs' FloodgateTM Packet Filter  embedded firewall software for the RTXC™ Quadros™ real-time operating system.



Malicious attacks on Supervisory Control and Data Acquisition (SCADA) and other industrial control and smart grid networks are a major concern. These systems were not originally built to withstand the kinds of sophisticated cyber-attacks coming from hackers, criminal enterprises and even terrorists.  Recently the Industrial Control Systems Cyber Security team noted that there are now several new, publicly available exploit tools that specifically target Internet accessible industrial control system and programmable logic controllers (PLCs). Targeted systems include those from Rockwell Automation (ROK: New York), GE (GE: New York) and Schneider Electric (SU:EN Paris).



Floodgate Packet Filter adds proven firewall security to Quadros-powered devices to protect from Internet-based attacks. The combined solution is designed to meet ANSI/ISA/IEC/TS 62443 standards for cyber security. The system is designed explicitly for use in embedded devices with limited memory and processor speeds that require secure network implementation certified to standards such as the ISASP 99 which is measured by the Wurldtech Achilles® Test Platform.



Floodgate Packet Filter has been used to provide security for industrial control applications, small footprint industrial firewall appliances and MCU based control devices. It  provides Stateful Packet Inspection (SPI) and rules based filtering to protect embedded devices from real-world cyber-attacks.  Rules-based filtering utilizes white-listing and black-listing to define system criteria such as port number, protocol, or source IP address for protection.  Floodgate also features Stateful Packet Inspection (SPI) that provides dynamic packet filtering based on the state of the connection to a device.



RTXC Quadnet Ethernet-TCP/IP stack is a robust but small footprint networking solution for network-attached devices and gateways. It was built specifically for the unique needs of embedded systems but with RFC-compliance and a Berkeley sockets API. The Quadnet stack already offers advanced authentication and encryption features for IP-layer security (IPsec/IKE) and application security (SSL/TLS). The Floodgate Packet filter will add a layer of protection against threats such as packet floods, request storms, port scans, malformed IP packets and corrupted Ethernet frames.



"Network-attached embedded devices are the latest target for hackers," says Stephen Martin, vice president, marketing at Quadros Systems.  "Our customers are coming to us for new levels of security and protection against these cyber-attacks. Adding Icon Labs' Floodgate Packet Filter to our RTX Quadnet Ethernet -TCP/IP stack provides our customers with a comprehensive defense against attack that meets today's advanced security certification requirements."



"Embedded devices connected to the Internet are no longer immune from hackers and other malicious threats.  Attacks against embedded devices have become front page news", said Alan Grau, President of Icon Labs.  "We are excited to be working with Quadros to deliver a secure platform for industrial control and smart grid devices."



About Icon Laboratories, Inc.

Icon Labs is a leading provider of embedded networking and security solutions.  Founded in 1992, Icon Labs is headquartered in West Des Moines, Iowa. For more information, visit www.iconlabs.com, send email to info@iconlabs.com, or call 1.888.235.3443 (U.S. and Canada) or 515.226.3443 (International).



About Quadros Systems, Inc.

Quadros Systems, Inc. (www.quadros.com) develops and markets integrated software platforms based on RTXC RTOS technology. Our developer-centric, relational approach is designed to give you the solution you need for rapid development time and ease of use. We invest in your success by taking the time to understand the unique requirements of your project with free up front consultation. For more information, contact Quadros Systems, Inc. at +1 832-351-2830 or visit www.quadros.com.



Contact:

Icon Labs:

Mark Shapiro

Tel: 619-249-7742

Email: mshapiro@srs-techpr.com



Quadros Systems:

Stephen Martin

Tel: 781-210-2393

Email: stephen.martin@quadros.com

More from Fluid & Gas Flow Equipment