Embedded Antennas optimize WiFi, GPS, and cellular performance.
Press Release Summary: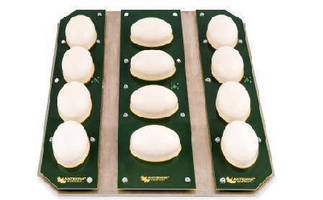 Maximizing range and throughput in both line of sight and non-line of sight test conditions, SuperShape® Antennas are available for indoor and outdoor Wi-Fi, connected home, mobile computing, telematics, and IoT applications. SuperShape® technology optimizes gain, efficiency, isolation, and coverage versus conventional embedded antenna designs. Using proprietary dielectric resonator design approach, shape and size of antennas can be tailored to meet custom demands.
---
Original Press Release:
Antenna Company Launches SuperShape® Antenna Technology for Greatly Improved Wi-Fi, GPS and Cellular Performance
Compact, highly efficient, embedded antennas provide greater range and connectivity for Consumer & Enterprise Networks, Laptop Computers, Telematics and IoT Devices

Pleasanton, CA –  Antenna Company (http://www.antennacompany.com/) announced the availability of new high performance antenna technologies and systems for a wide variety of applications including both indoor and outdoor Wi-Fi, connected home, mobile computing, telematics and IoT applications.

Antenna Company's patented SuperShape® technology improves gain, efficiency, isolation, and coverage versus conventional embedded antenna designs on the market. Independent benchmark tests have shown SuperShape® antennas to increase range and throughput by 50 to 100% in both line of sight and non-line of sight test conditions. Using Antenna Company's proprietary dielectric resonator design approach, the shape and size of the antennas can be tailored to meet custom demands of performance, system integration and cost.

For indoor Wi-Fi applications, high performance antennas provide superior radiation characteristics with greater efficiency and gain compared to conventional antennas. Antenna Company offers optimized dual-band and single band antenna systems for compact, embedded designs which require high levels of isolation between multiple antennas. Optimized reference designs are available for 802.11ac MIMO or Multi-User MIMO system configurations ranging from 2×2 up to 8×8, delivering gigabit wireless performance.

For outdoor Wi-Fi applications, the Antenna Company's SuperShape® directional Wi-Fi antennas enable compact, high gain, high performance antenna arrays designed for harsh outdoor conditions – while outperforming larger micro-strip array solutions. Antenna Company's outdoor products are well-suited for wireless backhaul, high density metropolitan, and stadium deployments as well as 3G/4G network offload applications.

For Smart Home & Connected Home applications, Antenna Company has developed embedded low-loss antenna designs for integration into set top box and other connected home devices, extending the reach of streaming HD content throughout the home. Solutions for low data rate sensor applications are also available to provide connectivity for IoT devices requiring extended range, low battery life and small form factor.

Antenna Company has also developed compact designs optimized for use in laptop computers and other mobile computing devices. In addition to improvement in MIMO Wi-Fi performance, these new antenna designs can be 40% smaller than competing designs which frees up space for integration of other wireless technologies, such as LTE or 60 GHz.

Lastly, Antenna Company has developed extremely robust multi-band antenna solutions for telematics applications which require global satellite tracking and cellular connectivity.

"Antenna Company has re-energized the field of antenna technology, enabling meaningful improvements in real world performance through our use of proprietary materials and patented design methodology," says David Favreau, CEO of the Antenna Company. "Our SuperShape® antennas are optimized for system-level performance and can be applied over a wide frequency range to boost the performance of both existing and emerging wireless technologies." -

About the Antenna Company
Antenna Company is an antenna systems provider that delivers high-performance 2D and 3D solutions based on advanced materials, proprietary design principles and RF system expertise. Our patented technology results in clearly differentiated performance over conventional antenna solutions in the market. Our mission is to solve difficult antenna system issues for existing and next generation wireless standards. We provide standard and customized solutions to leading OEMs and ODMs for Wi-Fi, GPS, Cellular and other wireless technologies. Antenna Company has a design center in the Netherlands with sales offices in the US and Asia. The company is headquartered in Willemstad, Curaçao

For more information, please visit http://www.antennacompany.com